GUYANA'S First Lady, Mrs. Arya Ali was last week presented with an award by the Dream Up, Speak Up, Stand Up (DUSUSU) Foundation for the role she is playing in making a difference in the areas of gender equality, women's empowerment, and improving the lives of people of the country.
The award was presented to the First Lady at State House by co-founder of the DUSUSU Foundation, Zuriel Oduwole, a 20-year-old filmmaker and education advocate. The Foundation is best known for it works on the advocacy for the education of girls in Africa.
During an interview with the Sunday Chronicle, Oduwole explained that apart from her advocacy work of meeting with presidents and prime ministers throughout the world, she has come to realise that there are other leaders who play a vital role in making a difference in the lives of people, and who also work closely with youths, more so girls.
To date, the Foundation has presented awards to First Ladies in Tanzania (2014), Kenya (2015), Namibia (2016), Senegal (2017), Mozambique (2018), Cabo Verde (2019), Sierra Leone (2020), Namibia (2021) and now Guyana (2022).
Following her meeting with Guyana's First Lady, Oduwole said that she, her sister and family were very humbled by the welcome they received here.
"We came to Guyana to present the First Lady with the 2022 DUSUSU Award. Mrs. Ali has done an amazing job so far, and she has been very gracious with all that she stands for, and the work that she has been doing with the young people of this beautiful country. She was very kind in meeting with us; it will be an honour to come back to Guyana and work along with her and the girls of the country," she said.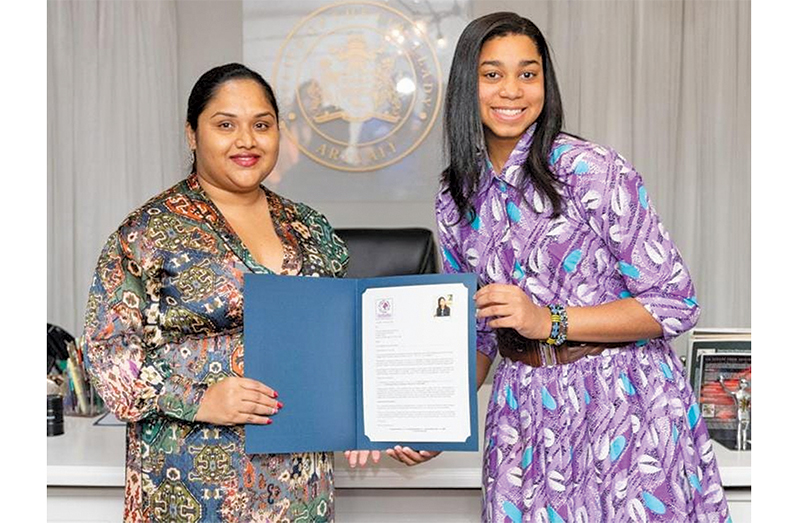 Oduwole also related that she was very excited to present the award to the first First Lady outside of the African continent.
Meanwhile, Mrs. Ali told the Sunday Chronicle that she is honoured to have received such a prestigious award.
"I am indeed honoured to have been the recipient of the DUSUSU award on behalf of every woman and girl in Guyana. This award is a recognition of the important work we have been doing to ensure our women and girls lead healthier, happier and successful lives," the First Lady said, adding:
"It also serves as a reminder of the critical role that every partner plays in ensuring we eliminate period poverty, and ultimately achieve gender equality.
"I wish to thank the DUSUSU Foundation for their recognition of our work, and encourage other partners to join with us on this journey."
Mrs. Ali has been leading the charge with her Menstrual Hygiene Initiative that is aimed at ending period poverty in Guyana, and to subsequently attain the fifth of the United Nation's 17 ambitious Sustainable Development Goals (SDGs), which is to "achieve gender equality, and empower all women and girls."
The project's main objectives are to empower girls with the necessary information regarding menstruation and menstrual hygiene, equip school-aged girls with sanitary pads for proper menstrual hygiene practices, and to address shaming and dispel the myths associated with menstruation. (Cindy Parkinson)