SURROUNDED by family, friends and well-wishers, Ms Veronica McGarrell on Sunday celebrated her 100th birthday.
The centenarian was all smiles and was decked out in her crown and sash as she walked into the celebration which was held at the Barnwell Event Hall, East Bank Essequibo, Region Three (Essequibo Islands-West Demerara).
McGarrell, who hails from Zeelugt, East Bank Essequibo, was described as a determined fighter who has persevered through many situations to make it to her 100th birthday.
The woman spent most of her younger life residing in Zeelugt and later moved to Vergenoegen, East Bank Essequibo, with her then seven children– all boys. Two of her sons eventually passed away.
The centenarian worked as a seamstress for most of her life, plying this trade to take care of her family. She only stopped when her children became much older. McGarrell's eldest son Arnold, who spoke to the Guyana Chronicle on Sunday, recalled that his mother would sometimes be up late at nights on the sewing machine perfecting her craft.
"I remember as a kid she would be sewing all night to make ends meet. We were little and you could hear the machine going all night," he recalled.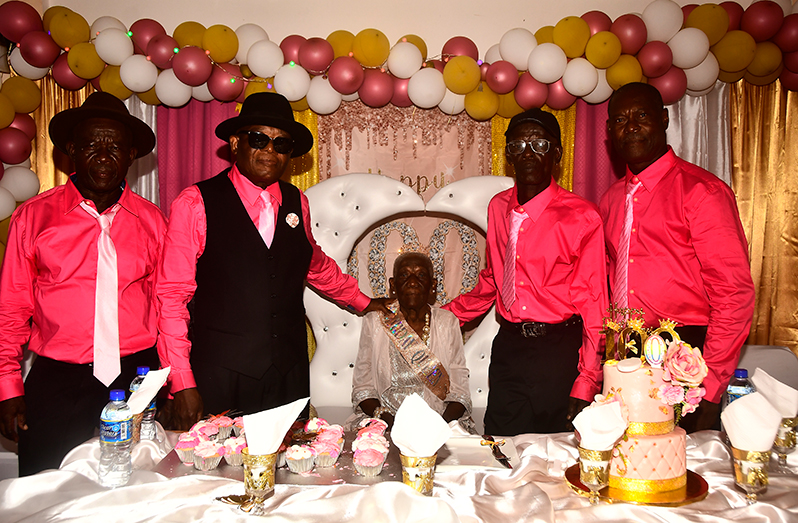 McGarrell, a dedicated Christian, still keeps active as she regularly attends church and is still able to read her bible without the assistance of spectacles.
With a bright smile on her face and enjoying her celebration, McGarrell was thankful to have made it to see 100 years and grateful to be surrounded by her loved ones on such a special day.
And according to her, the secret to long life was staying determined and fighting through challenges that may come one's way.
Meanwhile, speaking at the celebration, McGarrell's youngest son Ruben, said that this milestone for his mother is proof of her determination and will to persevere through life's challenges.
"If you are going to make it to the age of my mother, you have got to decide to… She has made it to 100 years because she is a good fighter," he said, as he urged persons to follow her example if they too would want to make it to his mother's age.