PRESIDENT Dr. Irfaan Ali met with world-renowned Guyanese-British actress Dr. Letitia Wright at the Office of the President on Shiv Chanderpaul Drive Wednesday.
During the meeting, the Head of State presented Wright with a framed copy of her Guyanese birth certificate, and a copy of her parent's marriage certificate.
The 'Black Panther: Wakanda Forever' star said she appreciated the gift, and that the President must have "read her mind".
Dr. Wright is visiting her home country at the invitation of President Ali.
The University of Guyana (UG) on Wednesday conferred an honorary degree on Ms. Wright at its main campus at Turkeyen, Georgetown.
An honorary degree recognises meritorious accomplishments and activity in any given body of work.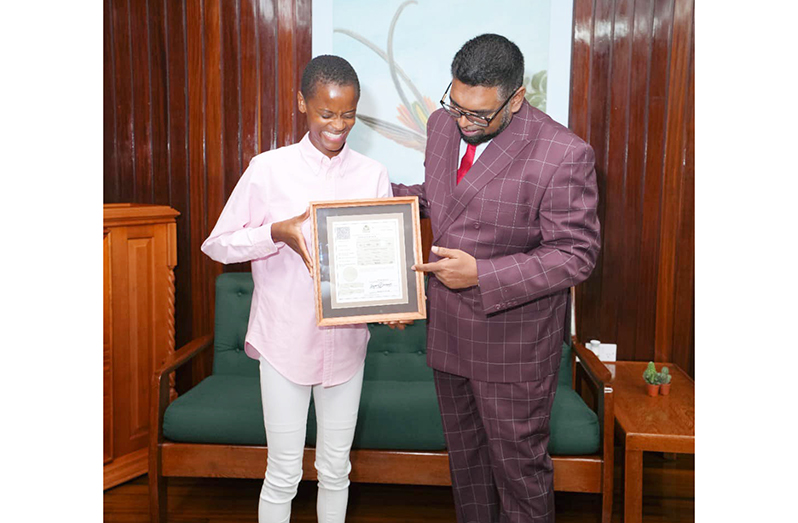 Such work, in Wright's case, relates to her accomplishments as an actress, and its benefit to society, which is reflected in the values cherished by the university.
The actress, in her acceptance speech, shared her journey.
Her delivery from the podium hovered around an authentic reflection as a Guyanese who is filled with gratitude.
"I really took the opportunity to highlight my country, because this country is part of where I am from; this country is in my bloodline. I go home, and there is pepperpot and bread. I go home, and there is roti; dhal roti; it's my favourite. I go home, and there is Guyana in the very fabric of all that I do, and all that I am. So, in a way, I have not been home, but home hasn't left me … As you love me, I love you; as you are proud of me, I am proud of you, too, Guyana," Wright told the packed auditorium.
UG's Vice-Chancellor, Professor Dr. Paloma Mohamed-Martin, before presenting the degree, took a moment to reflect on the long list of Guyanese in whose footsteps the actress is following, and who have similarly been bestowed with the same honour.