WHEN you love what you do for a living, it is never a burden. With this principle in mind, Barbara Collins opened her small business in 2018, a canteen providing wholesome snacks, food and beverages for school children.
The canteen owner told the Pepperpot Magazine that, in addition to operating the canteen, she was also tasked with the general maintenance of the private school, Alpine Academy, which is owned by her sister.
Collins stated that she is often busy overseeing things and she can be considered 'a jack of all trades' since she can do the plumbing and general work in and around the school buildings.
She is a Timehri Hill, East Bank Demerara resident but relocated to the hillside village many years ago after she exited Soesdyke, where she resided for a while.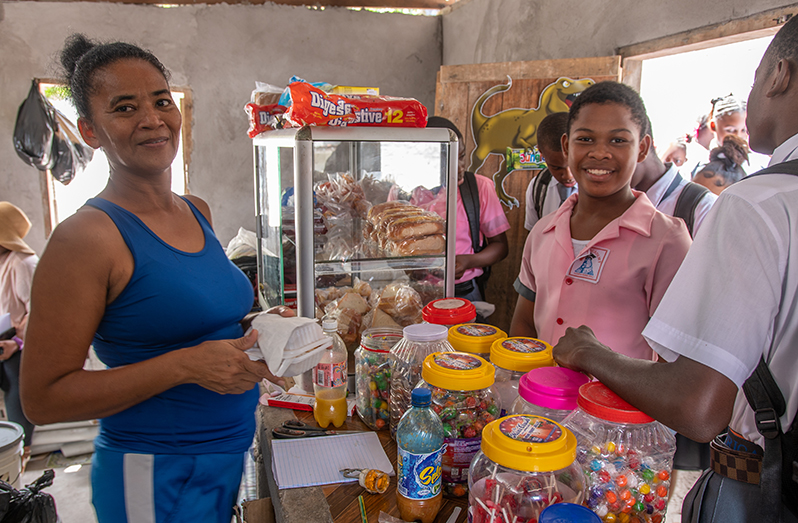 Collins is a native of Mocha Arcadia, also on the East Bank Demerara and has a house on a hill in the community.
She opted to stay because she likes the quiet life of the countryside since there is enough space to plant and harvest fresh fruits and vegetables for the kitchen.
Collins added that there is nothing more rewarding than picking coconuts from your own tree and drinking the water to offset the heat of the day and it was for such reasons she likes living in the village.
The mother of two stated that, from Monday to Friday, she would prepare lunch for the learners with a new menu every day and at an affordable cost of $400 each.
The businesswoman reported that, in addition, she would make sandwiches, egg ball, hot dog, corn dog, chips, puri, roti and curry and pastries.
That day, when the team visited, she had her niece assisting in the shop to tend to the school children, who had shown up in their numbers, during the break period, for something to eat. Collins was in the process of preparing stewed chicken with rice.
The lunch is for school children who don't bring their lunch to school and she is pleased to provide a service and nutritious foods.
"I prefer to be busy doing things than being idle and I don't mind doing the work, operating a canteen brings and also being a general maintenance person, seeing to construction works being done at the school where my canteen is located is indeed a lot but it is what it is," she said.
Collins added that she has good relations with the learners as well as the teachers and the people of Timehri Hill and they support her small business.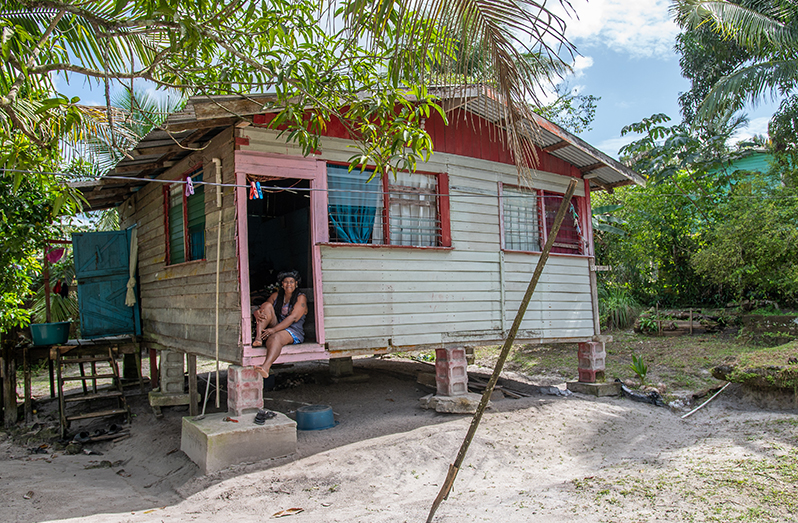 Sharon Vigilance, the homemaker
Meanwhile, in the same village is the house of Sharon Vigilance, a widower of a teenage daughter and some adult children from a previous relationship.
She has a nice, well-kept cottage with adequate trees, plants and fruits growing in her yard and she is a well-put-together woman.
The mother of five told the Pepperpot Magazine that she moved to Timehri Hill after marriage since her husband is a local of that village.
It has been more than 20 years, and it is home for her. Vigilance stated that she is originally from One Mile Extension, Linden, but has gotten accustomed to living in Timehri Hill.
She resides around the relatives of her late husband, Royce Vigilance, who passed away suddenly eight years ago, under mysterious circumstances.
At the time of the husband's death, her daughter was just six years old and she only received his death certificate when her daughter was 10 years old.
Vigilance disclosed that, although it has been difficult since her husband's passing, she was trying to cope.
She disclosed that, at night, the place is usually cold, but, during the day, if it was not raining it was very hot due to the sandy condition of the soil.
Vigilance said life was fair at Timehri Hill and they had the basic necessities to have a comfortable stay and it was a safe place to live since the local knew each other.