TIME and time again, I've been emphasising the importance of creating safe spaces in every aspect of social life. When you think of a safe space, what's the first thing that comes to mind? Do you have any safe space or safe environment to turn to if you ever need one? As we open this discussion on what safe spaces are, I want you to ask and answer those questions. The term 'safe space' usually refers to a space or environment, where a group or category of people (or even an individual) can be themselves without any form of harm, harassment, or discrimination of any kind. A safe space should be diverse, inclusive, accepting, and welcoming for everyone.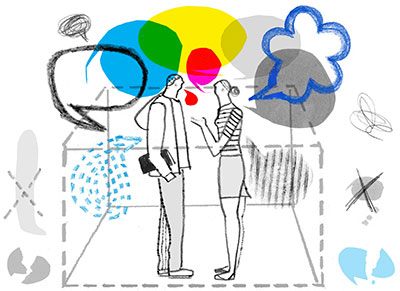 While the term is usually miscommunicated or misused, the definition and idea of a safe space should always be used correctly with its intended purpose of protecting. A safe space is usually created for marginalised groups. Here, the group can share their common interests with each other—without fear or judgement. Safe spaces can be a physical space or a specific atmosphere or feeling that protects your inner peace and stability. I believe safe spaces should be created everywhere—in offices, your home, schools or universities, and even places of business.
Safety is important for many of us and it certainly affects our everyday mood, lifestyle, and productivity. Will you be able to be your best self if your house doesn't have proper working padlocks? I think not. Safety brings comfort. Mental and emotional safety are just as important as physical safety. Personally, my emotional safe space is where I create certain boundaries for various relationships in my life. I feel safe with those boundaries as they protect my mental well-being. If something or someone triggers my anxieties—I will know to stay away because that is what allows me to feel safe.
The definition of a safe space may remain the same but what we desire as safe and comfortable may be unique to us as individuals. There are many physical sage spaces in our communities, such as support groups, child-friendly spaces, and even certain agencies/organisations. At work, a safe space can perhaps be the break room where workers are allowed to communicate and interact without fear. For children in school their safe space may be the library or play area. For you, it may be your bedroom, for someone else it may be a church. For domestic violence survivors it may be a safe house. For parents it may be the bathroom. Safe spaces are all around. In our communities, our leaders are responsible for providing and assisting in developing safe spaces for all. Individually, we owe it to ourselves to protect our sanity, boundaries, and inner peace by acknowledging where our space is and how we treat it.
Acknowledge your sanctuary, claim it and rejuvenate from it—it should be your space to feel protected and secure. The world is already difficult to be in with the many social issues we face daily. On a community level, marginalised groups such as refugees, women, abused victims, indigenous groups, and members of the LGBTQI+—will have somewhere to call their own. On that same note, these safe spaces provided need to be maintained to effectively help the persons they are supposed to serve. If they grasp the concept of these community safe spaces, they will then more than likely be able to model that into their own lives and homes.