AS a resident of Tigerbone Banakari and the Vice Chair of the Community Development Council (CDC), Kathy Alfred wanted to see community-based development on both sides of the fence and began volunteering with the neighbouring village of Long Creek.
She began volunteerism as her way of giving back to the community, and it started in 2011 when she got involved as a CDC member.
Alfred is part of the planning committee for the Long Creek heritage day festivities and that event, the first heritage day celebration for the village, was scheduled for September 17 at the ball field.
"Although I live on the Tigerbone Banakari side of the village, I want to see both villages benefit from community-based development. As such, we came together and decided to host our own heritage day," she reasoned.
She related that Tigerbone Banakari has a Multi-Purpose Resource Centre building which is incomplete and an ICT hub will be established there.
Alfred is no stranger to volunteer work and she has been fostering development with both the private and public sectors since 2011.
"I was always involved in planning events including heritage, but since 2019 I see a lot of things not going right, so I switched over to Long Creek to assist and the people are mobilised and cooperating," she explained.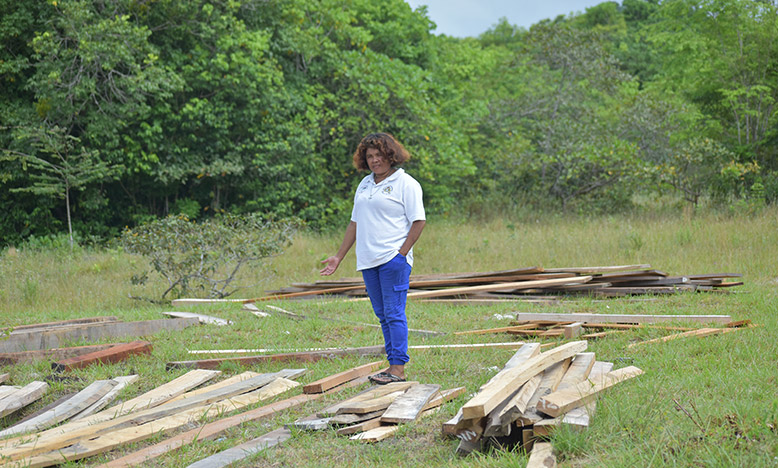 Alfred told the Pepperpot Magazine that Long Creek needs an in-house doctor and the visiting doctor comes once weekly only on Wednesdays.
The Long Creek Health Centre is located on the highway, but there is no electricity to the building, and the living quarters are empty due to the lack of basic facilities.
Alfred reported that the facility also needs more medicines. There should also be a police outpost in the village due to the increased presence of strangers and the influx of criminal elements, she said.
She noted that, in recent times, there has been a lot of drug use among the young people and there have been incidents of pilfering.
She added that there has been an influx of Spanish immigrants in the village. She stated, too, that without electricity it is very dark at night and it is a cause for concern.
Alfred noted that, despite some challenges, Long Creek is a lovely place with good people and they were in preparation mode trying to get the wood to construct the stage, make stalls, and put other things in place for the heritage day.
The wood was donated by a businessman, Nazier Mohamed, who has one of two sawmills in Long Creek and has always supported the community by providing jobs for the locals.
Alfred told the Pepperpot Magazine that Long Creek will put on a well-organised heritage day with lots to showcase, eat and drink, plus a stage show depicting their cultural talents.
In addition, they will keep the people entertained via various games such as cricket, and some Amerindian games will be introduced.
She related that they will have the hottest pepperpot, tuma pot made with wild meats and fish for free sampling and homemade traditional piwari and fly wines.
Alfred stated that they will be a five-Side cricket match, tug-o-war, 'accessories in a bag' game, needle floating competition and a cultural stage show at 16:40hrs with various dances such as the matapee, che-che, mora, and monkey followed by songs, skits and poems.
She pointed out that visitors will only pay for parking, but a table will be allocated for free sampling of Amerindian cuisine and drinks while there will be foods, drinks, craft on sale at the booths they have set up.
Alfred told the Pepperpot Magazine that there is inclusivity in planning and organising the heritage day in Long Creek, and the locals and CDC members have been supportive.
The donations by the sawmillers were a great help and almost everybody in the village is taking part in some way and she is very thankful for that.
"To make any event possible as a people we must unite and include everyone to be apart and people want to be involved in these community events and we give them the opportunity to do so," Alfred said.