ONE of the friendliest locals of Long Creek Village is Ivonne Solomon, a mother of three who has been residing in the community for the past 35 years and is a poultry farmer.
The 38-year-old told the Pepperpot Magazine that she rears both meat birds and layers and would wholesale the eggs and layers to buyers.
Solomon stated that she was born in Suriname, but her mother relocated to Long Creek Village to reside with her parents when she was three years old.
She explained that her father is Guyanese, but his parents are from St. Vincent and most of her relatives reside in the same village.
The mother of three added that, at times, things are a bit difficult due to the lack of roads, electricity and facilities, but, nevertheless, she is thankful she was able to attend school up to high school at Dora Secondary.
She tied the knot in 2001 to her husband, who is a local of Region One and, today, they have a small business. Their eldest son is an Immigration Officer while the two others are still at school.
Solomon reported that she lives in the agricultural block of the village and she has three neighbours who are not close by and she is the Treasurer of the Long Creek Community Development Council (CDC).
"There is no transportation system here and the school children have to walk two miles or more to get to school and it is not easy and to go by taxi is $600 one-way and it is costly for the people," she said.
She stated that there is also no internet in the village and they only get internet via their cell phones using data service, which is expensive so the school children are disadvantaged in terms of access to technology.
Although there is a GTT tower nearby, they are yet to benefit from an ICT hub in the community which attracts many youths and school children.
Presently, Solomon is also part of the heritage organising committee and they are working collectively to host their heritage day on September 17.
The Long Creek CDC was established three years ago and it is now headed by Chair, Ava Famey, a resident and a teacher attached to Kuru Kuru Primary School.
Elaine Harry, the shopkeeper
Elaine Harry is also a resident who has a small shop in Long Creek and is the mother of five and grandmother of four.
The 55-year-old told the Pepperpot Magazine that she has been living in the village for the past 30 years. Four months ago, she established her own small business and it is going well so far.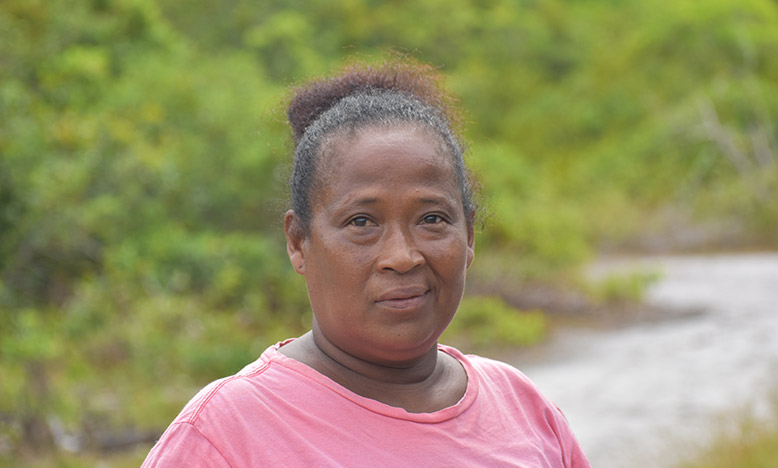 Harry added that she is originally from Georgetown but relocated with her family at age 13.
"Life here is simple, peaceful, but challenging because we don't have certain basic necessities, but there is enough space and the air is fresh and clean. Not congested at all, and I prefer this kind of life here, away from the crowd," Solomon said.
She added that only the 'die-hard' people stay in Long Creek because of the lack of facilities but the tranquil peace is just right for her despite the disadvantages.
Wesley De Freitas, the security personnel
Wesley De Freitas is a security guard attached to the Long Creek Primary School, a post he held for the past year and he hopes to join the army later this year.
The 18-year-old told the Pepperpot Magazine that he always wanted to become a soldier and he was working towards that career goal.
Due to a lack of job opportunities, he had to take up the security job and he works the 15:00hrs to 21:00hrs shift and would at times commute on his bicycle or take public transportation.
He added that the workplace is located about four miles away from his home.
De Freitas stated that he likes the village and the people because they are familiar with each other and it is a good place to reside and it would be even better once the place develops and they have more job opportunities.