FOR over 12 years, Alex Dane Fraser has been involved in nonprofit training workshops across communities in Guyana. By dedicating time to impacting people's lives, Fraser is constantly motivated to continue educating, engaging and empowering young people on different social issues. He initially started volunteering in 2009 after realising a growing need to provide essential support to youths, particularly children living in vulnerable homes or facing difficult circumstances.
"Every youth needs a voice, and adults need to listen to them," said 31-year-old Fraser, the current Chairman of the Victoria Community Development Council (CDC).
He began volunteering at organisations including Help and Shelter, Volunteer Youth Corps, and Youth Challenge Guyana because he wanted to participate in crucial decision-making processes that positively impacted youths and created spaces for them to make valuable contributions.
"I would sit and think, and it broke my heart wondering why nothing was happening for young people in Victoria," he stated.
Through the encouragement of family and friends, he sought additional training to provide counselling for young people in the community, and he began volunteering with Artistes in Direct Support.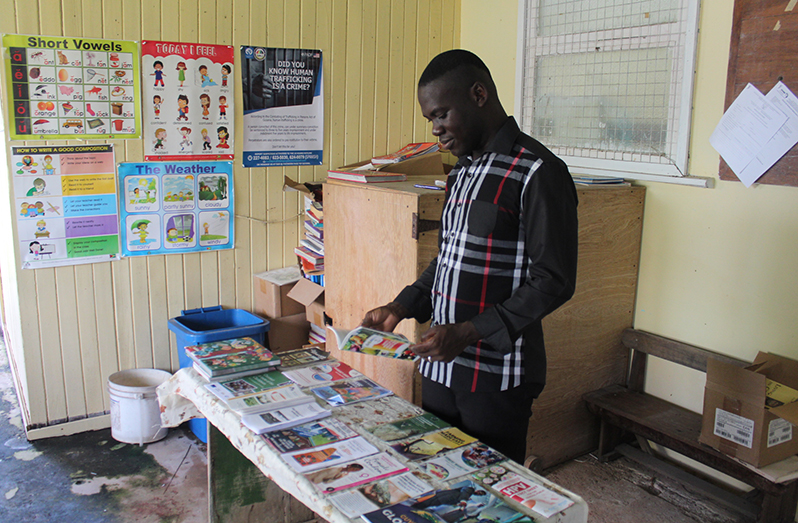 "It was a learning experience for me because apart from learning about HIV/AIDs and HIV testing, I dealt with theatre arts and educating the public on a number of other issues," Fraser highlighted.
Additionally, he started including both young people and adults when given opportunities to plan and conduct training workshops because he aimed to facilitate conversations centred on different topics between young people and adults. To date, Fraser has conducted training workshops with over a thousand persons in Regions 1, 3, 4 and 7.
Respect
Fraser noted that the 'culture of respect' plays an integral role in the dynamics between young people and adults. He expressed that, growing up in Victoria as a child, he was always taught to go and willingly offer assistance to elders whenever he saw them.
Additionally, when elders in the community scolded him, that meant receiving an additional scolding from his parents because the community was grounded on the principle that "it takes a village to raise a child."
Community Development
Cognisant of the need to provide support and resources to Victoria Village, Fraser, together with other residents, launched the Victoria Community Development Council (CDC) in April 2021. According to Fraser, the Victoria CDC is a nonprofit organisation. It aims to promote socio-economic development, improved livelihood, and community development and tackle issues on education, infrastructure, agriculture, social security, and health, to name a few.
The idea to start the organisation was a collective decision made by residents who would often meet to discuss how best to develop Victoria. "The Victoria CDC represents the interests of all Victorians and even persons outside the village can join our classes. We provide equal access," said Fraser. The organisation was officially registered on May 4, 2021.
The organisation's meetings and training sessions are held at the Victoria Culture Centre. He indicated that there are different activities facilitated at the centre, which include: weddings, birthdays, and Emancipation festivities. Presently, the Victoria CDC is conducting an electrical installations course that was made possible by the Ministry of Labour, Guyana, through the Board of Industrial Training (BIT). This four-month course started in July 2022 and it is held on Mondays, Tuesdays and Thursdays at the centre.
There are also reading classes conducted through the Victoria CDC. The class has a volunteer teacher, and it is held on Mondays, Wednesdays and Saturdays. Through the Ministry of Education – Guyana Literacy Department, the organisation received reading materials for the participants. Additionally, there is no age limit to the class, and it is free. However, participants pay a monthly fee of $1000 GY to assist with preparing their meals. Some villagers also donate goods such as eggs and rice and other educational items.
Fraser further disclosed that there were workshops conducted on business development for entrepreneurs through the Small Business Bureau Guyana, and training sessions were facilitated by the Ministry of Agriculture. Moreover, the organisation has also assisted persons in registering for the Women's Innovation and Investment Network (WIIN) programme.
At this moment, Fraser is focused on raising the standard of the Victoria Culture Centre by reaching out to different local organisations for support to carry out renovations on the building. There are repairs to be done, and he has already received items such as zinc sheets and tins of paint.
"I am committed to uplifting my young generation and the community!" Fraser remarked.