76-year-old Desmond Saul can still recall some of the traditions his family observed on Emancipation Day when he was a young boy while growing up in Victoria.
"That day would usually start off with a church service in the morning," shared Saul, who explained that freed African men and women had embraced the importance of religion and education and earnestly sought to pass these principles onto their families and the wider community.
As one of the youngest children in a family of ten, Saul remembers the excitement he felt while going to the events with his siblings during the 1950s and 1960s. His older brothers and sisters took care of him since his parents did not go with them.
He pointed out that there would be several outdoor celebratory events that filled the atmosphere with jubilation. These events were held on the fields of the Lady Sendell Park, which was named after the wife of a former Governor at the time, Walter Sendell. The people who attended these events were usually adorned in colourful and elaborately designed African clothing.
There would also be a wide variety of African dishes on sale such as conkie, which was made from cornmeal, coconut and pumpkin wrapped in banana leaves; metemgee, a mix of ground provisions boiled in coconut milk; cook-up-rice that was prepared from boiling rice, beans or peas, meat and herbs in coconut milk; and other dishes.
"Emancipation has always been in all the villages something to celebrate on August 1. A time to reflect on where the former enslaved Africans came from and where we are now as their descendants," Saul expressed, adding: "People would sing. The Centipede band would play, just like they did at Christmas, but they would also play there. People came out. They gathered at the park in the afternoon, and it was fun."
Saul believes that there is a need to revitalise past learning activities to teach people, particularly youths, the true meaning of Emancipation. He opined that Emancipation Day has become 'fun and frolic' and the intervention of capacity-building initiatives can provide people with the opportunities to learn, grow and invest in development.
For 76-year-old Genevieve Russell, also known as Hazel Russell or Teacher Russell, Emancipation Day while growing up was a joyful time not only in her home but also in the community. "You would see people preparing," she shared, reminiscing about the sense of eagerness everyone had to ensure they purchased the right ingredients to make delicious African dishes and 'clean up' to have fun family gatherings at their homes.
"I loved all kinds of cook-up-rice, eddo leaf cook-up, peas cook-up and 'shine rice'!" she remarked.
On Emancipation Day, Teacher Russell related that the adults and elders would blend their voices in harmony as they danced and sang African folksongs while celebrating on the Middle Walk Road.
Being one of eleven children, she remembers waiting and watching the yearly celebrations with her brothers and sisters.
"We were small children. We used to watch them going down the road from the stairs in the yard while mommy and daddy went out," she said, later bursting into a song:
'Africa
I want to go back home
Bet yuh life, this same passage
I am going home back
Back to Africa
To see ma grandfatha'
"They used to sing nice!" she exclaimed with laughter, while her eyes glistened with childlike glee from remembering a time that is long gone.
Like Saul, she too also expressed that Emancipation Day has changed throughout the years, and there is a current lack of emphasis on preserving as well as promoting the rich cultural history behind the day.
Growing up in Victoria
Even as a young child, Teacher Russell was passionate about teaching and loved gathering her younger brothers and sisters to teach them to read, write and count.
"My hobby was teaching. We would sit on my parents' steps, and I would teach them," she stated.
As time progressed and people around the community started noticing how well she taught her siblings, they approached her mother to seek permission for her to assist children within the community at a small fee of 60 cents every month.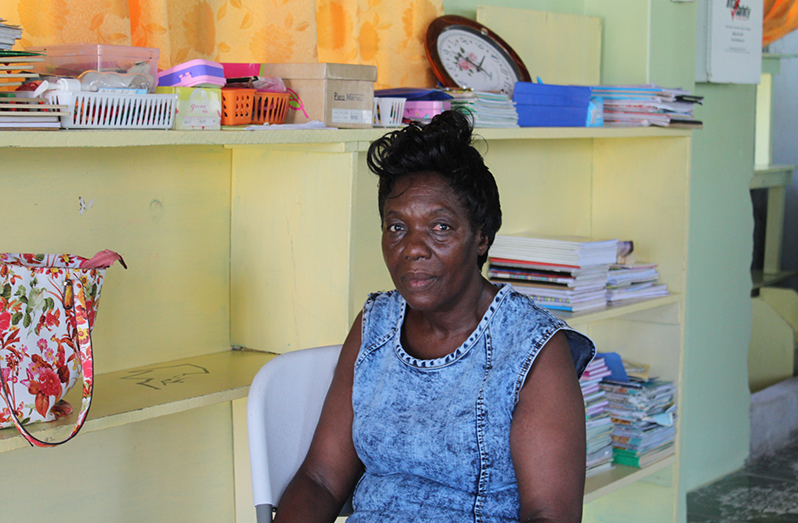 Her father, Fitz Herbert Russell, worked as a cane harvester and a farmer. During the out-of-crop seasons on the sugar estate, he would plant produce such as bananas, plantains, cassava, mangoes and breadnuts that were usually sold to support the family. Sometimes, she and her siblings went to assist him in the back dams during the August holidays while attending Victoria Primary and a county high school in Buxton.
Even though her mother, Bernice Russell, was a housewife, she assisted in supplementing the family's income by selling brooms. They would sit under the house to 'strip' coconut branches to make the brooms.
One day, her mother came home with a cart of beautiful earrings she had purchased and placed them on she and her sisters' ears. "My mother bought that from the same broom money," reminisced Teacher Russell.
While growing up, Saul and his siblings supported their father on the family farm that had rice, ground provisions and fruits. During the holiday seasons, while attending St. Andrews Primary, located at Cove and John and later on, the Hindu College and Golden Grove Secondary, he would assist his father.
"At rice crop time, we had to go up and help cut rice with grass knives or drive the bull so that it would mash the rice straws to get the paddy off," he said.
His father travelled once every week to the West Coast of Berbice to sell the produce by taking a bus early in the morning on the day before he started selling.
Furthermore, one of Saul's fondest childhood memories is sitting under moonlit nights listening to 'Nancy' stories.
"I remember the story about Bill, whose mother was making bakes and he stole bakes and hid it in his hat. But the oil started to drip at the sides of his head," Saul shared, adding: "You also had Anansi spider, Tiger and Brer Rabbit."
Because there were no distractions such as televisions, Saul strongly believed the stories taught them moral values as children and lessons about life.
Imparting knowledge in his community
After completing secondary school, Saul became a teacher at St. Ambrose Primary and then Christ Church Secondary. He left the profession three years later, in 1966, to study engineering in England.
Eventually, he returned to Guyana in 1970 and began working at the Guyana Telecommunications Corporation. He worked at the company as Senior Executive Engineer before migrating to Canada in 1980.
Over the years, Saul has served in several senior capacities for international telecommunications companies, executing projects based on placement strategies for fibre optic installations and introducing high-tech cellular devices to markets. Around the world, he has worked in China, Ireland and the Philippines. He retired in 2001.
By becoming motivated to improve the literacy rate of youths within Victoria, he returned to Guyana and opened the 'Foundation for Real Christian Education' (F.O.R.C.E.) school. This school aims to provide vocational skills training for youths. The classes include carpentry, electrical engineering, welding, motor mechanics, sewing and music.
Unfortunately, the school's population has decreased due to the impacts of the COVID-19 pandemic. Saul mentioned that he was still awaiting responses from state agencies he would have approached for support.
Now, he is currently engaged in missionary work at the Victoria Brethren Church, teaching at F.O.R.C.E, as well as travelling to Ottawa, Canada, to visit his wife, Brenda Saul, four children and eight grandchildren.
Victoria is home
Teacher Russell explained that she started teaching at 17 years old in 'bottom house schools', which were small educational spaces made to accommodate children under a house in the community. In 1971, she wrote the College of Preceptors exams and attained her certificate.
She related that 'bottom house schools' went on until 1976, which saw official plans to construct the Victoria Nursery School. While the school was being constructed, she joined other teachers to carry out 'self-help' acts such as painting the walls. Teacher Russell is one of the first teachers at Victoria Nursery.
Unfortunately, after surviving years of domestic abuse, she travelled to Linden and made it her home for 12 years. "Those were terrible times, but I got through it with prayer," she said. To earn an income in Linden, she did several jobs, including teaching while working at a snackette.
Although she returned to Victoria, it took a few years to successfully rebuild her life with her five children by her side. Nonetheless, she continued her teaching career in Victoria and retired in 2009 at North Brook Nursery.
Today, Teacher Russell enjoys attending the 'Christ Ambassador's Church' as well as teaching the Sunday school children. On her own, she runs the 'Garden of Eden Nursery School' and remains committed to teaching people around her.