A healthy pastime during the pandemic and beyond
AGNELA Patil came to Guyana in 2017 to serve for three years as a teacher of Indian culture. When her tenure was up, though, the "warmth, compassion and hospitality" of the Guyanese people encouraged her to return and continue her practice.
A certified yoga trainer practising for the past 25 years, Agnela was born and raised in Goa, India and was introduced to yoga at a tender age by her teachers. Thus, she developed a love and passion for it, which continues to this day.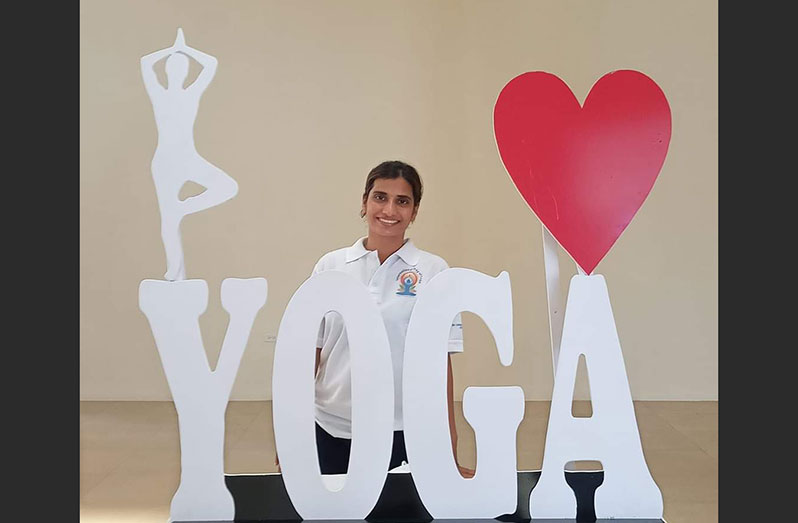 Like many students in India, she initially studied in Engineering but later found that this was not what she wanted to do. "I realised that this was not my calling, and I eventually switched to Yoga," she reflected in an interview with Pepperpot Magazine recently.
So she then pursued a diploma in Yoga from Nashik University, Maharashtra and subsequently a Bachelor's degree in the discipline. Soon after completing professional developmental courses, Agnela was selected by the Indian Council of Cultural Relations (ICCR) to serve as a teacher of Indian culture at the Indian High Commission, promoting Yoga and Ayurveda in Guyana.
Because she greatly enjoyed her time in Guyana, she decided that she wanted to come back and continue her work here. She did, and this led to the establishment of the Namaste Yoga and Ayurveda Centre located at Temple Street, Ogle, East Coast Demerara.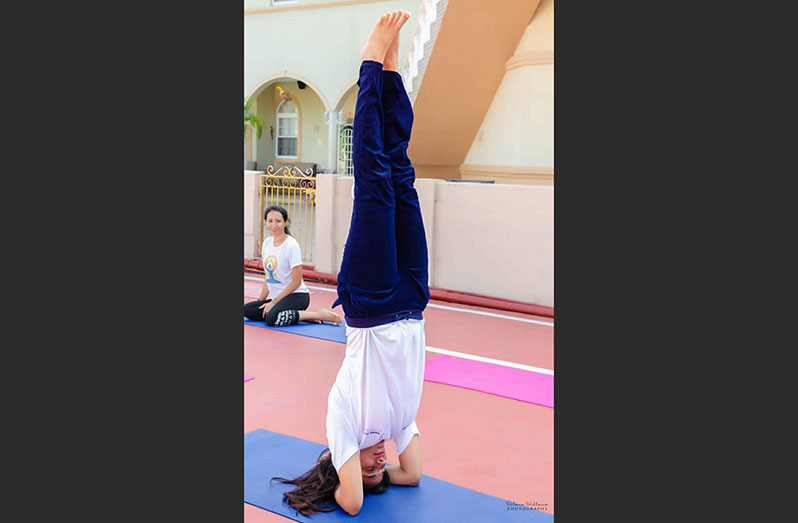 At this facility, classes are held in Yoga which comprise of Pranayama (breathing) Yogasana (postures/stretches), relaxation techniques and meditation as per ancient traditional yoga. The stretches or postures target joint and back pain, strengthening body muscles and joints. Agnela pointed out that classes are conducted according to the National COVID – 19 Guidelines.
"The common feedback from students is that the classes serve as a stress reliever, enables peace of mind, and is a refreshing break from the mental unease occasioned by isolation as a result of the pandemic," she shared.
Ayurvedic supplements are also available to tackle these issues, along with hypertension, diabetes, indigestion and other common health issues. And on Saturdays, special meals are prepared, both tasty and healthy, based on ancient kitchen remedies, she said.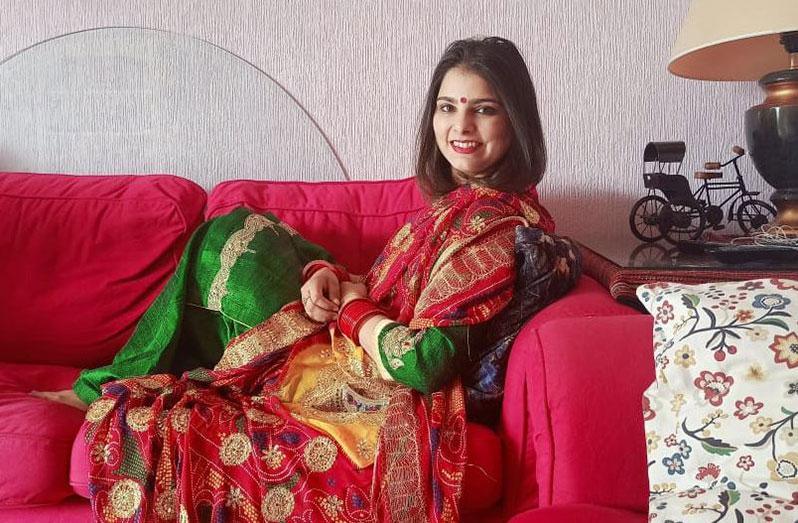 "And this is not all. Backed by popular demand and suggestions from Yoga enthusiasts who love Bollywood, we have introduced a creative and culturally engaging feature in addition to our Yoga classes. These 30 minutes dance sessions begin before yoga classes and include a variety of Indian dances ranging from the famous Punjabi Bangra and Garba, to simple Bollywood dances."
Every dance programme targets flexibility, agility, better coordination, balance, endurance, physical confidence, and social skills. "Bollycardio is a creative and engaging way of cultural exchange for our yoga enthusiasts who love Bollywood. Students get to learn some other Indian dance forms, along with mainstream Bollywood dance. This session is absolutely free and…it aims at uplifting people's mood especially during this depressing pandamic time. Students sweat thoroughly and enjoy following the trainer and watching themselves in the mirror dancing like never before," she explained.
The dance sessions are conducted by Sanyukta Singh who is an Indian national from Haryana state. She is a Software Engineer and foreign language trainer and is versed in the art.
Aside from yoga, dance and sumptuous foods, Agnela and team also offer high quality, hand-crafted Indian clothing sourced directly from India. These are the latest fashion in India and are available for all occasions. The fabric is said to be high quality, skin-friendly and pure cotton, which is suitable for Guyana's tropical climate. "They are also exquisitely designed and are very pleasing to the eye and are available through advanced order," Agnela said.
Indian traditional practice
"Yoga connects the body, mind and spirt through the practice of an eight-fold path created by Sage Patanjali more than 2,000 years ago," Agnela posited, adding, "Modern-day yoga scholar Ananda Balayogi Bhavanani, in a paper titled 'The History of Yoga from Ancient to Modern Times,' identified the eight-fold paths as Yama, Niyama, Asana, Pranayama, Pratyahara, Dharana, Dhyana and Samadhi."
Yama, involves attitudes towards the environment; Niyama, attitudes towards oneself; Asana, physical postures and stretches; Pranayama, restraint or expansion of the breath; Pratyahara, withdrawal of the senses; Dharana, focus or concentration; Dhyana, meditation; and Samadhi, spiritual connection which involves a meditative consciousness.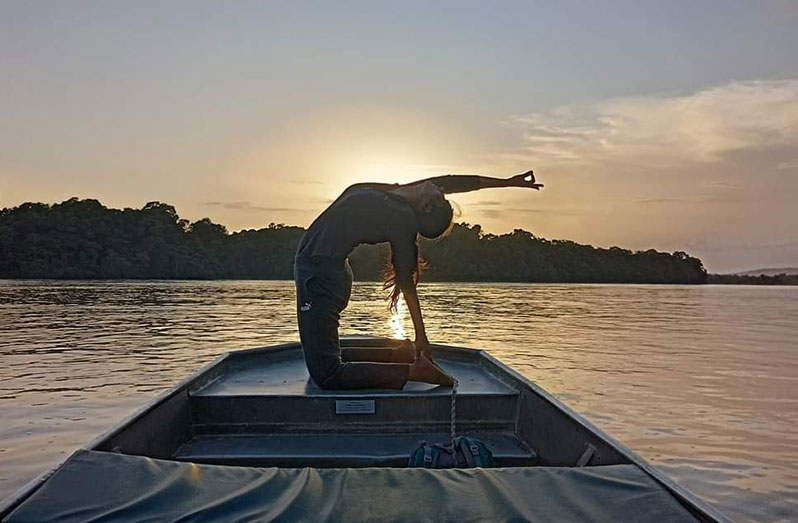 "Yoga is a universal practice; it is not related to religion, caste or creed, and so anyone can join a yoga session. Yoga is not just about exercises [simple and complex postures], but the integration of the mind, body and spirit into one harmonious whole," said Agnela who taught the 5,000-year-old Indian traditional practice at the Swami Vivekananda Cultural Centre in New Haven, Bel Air, Georgetown.
She claims that after one session, yoga improves brain function, lowers stress levels, and increases flexibility and that after a few months of practice, participants experience lower blood pressure, improved lung capacity, improved sexual function, reduced chronic neck and back pain, anxiety relief, lower blood sugar levels in diabetics and an improved sense of balance.
After years of practice, the expert said practitioners develop stronger bones, healthy weight, and lower risk of heart diseases.