Guyanese Environmental and Human Rights lawyer with a passion for gender and equality issues
SAEED Hamid seeks to manage his time well by planning ahead for his day and gauging his work daily to ensure that he is not just putting out an optimum level of service, but that he's keeping on top of his mental health as well.
Work tends to get overwhelming at times, and being the young legal professional that he is, Saeed's plate is quite full as an Environmental and Human Rights lawyer. At just 28 years old, he's already held a few prestigious offices and is yet on his way to another in January at the Guarini Law Center, New York University.
Passionate about societal issues, Saeed, a graduate of the University of Guyana, the Hugh Wooding Law School, and the University of Aberdeen in Scotland, has a special interest in gender and equality.
Climate change and other environmental concerns are also top of his list and he is especially keen on observing how these matters affect everyday life and human rights.
Apart from these, Saeed, a former student of St. Rose's High, is also interested in migration issues such as the influx of persons from all over the world to Guyana.
Reflecting on how it all got started, Saeed told the Pepperpot Magazine recently that he's always had a liking for debating in high school. "Having to do the research, prepare the presentations and then having to deliver them intensified my interests in these areas and that's what led to me pursuing law and doing a masters."
Currently, he's working on a Marine Plastic Pollution project at the New York University (NYU) to eventually be able to formulate a treaty to prevent plastic pollution. "Plastic is something we use every day and it poses a problem because plastic lasts for over a thousand years; it can't be broken down. So by 2050, there will actually be more plastic than fish in the sea," he pointed out.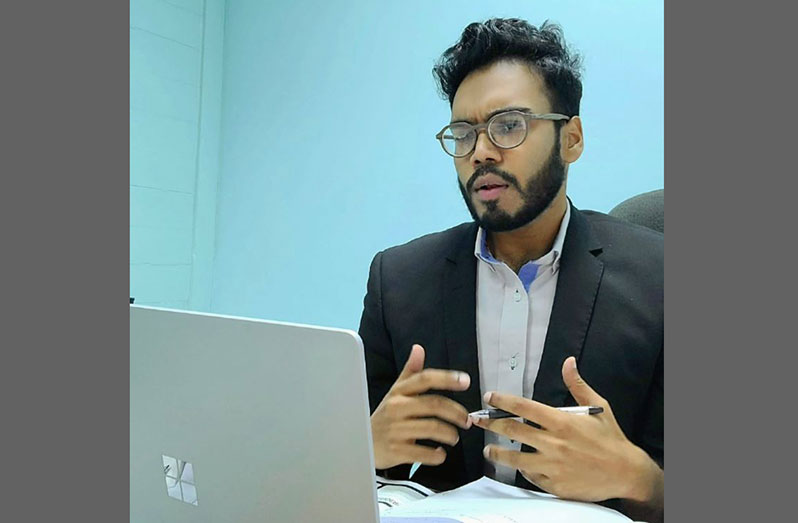 This project affects many CARICOM countries and small island states that may come together to form a global solution to tackle marine pollution.
Saeed spent two years working at the Environmental Protection Agency (EPA) and after just the first year, he was promoted to head of the legal department. "It was kind of unheard of for a 27-year-old attorney to be heading a legal department. When I'm always the youngest in the room, there's always that kind of pressure, but you also feel a sense of pride at being among all these luminaries; you feel a sense of accomplishment," he shared.
He believes that taking up the job at NYU will give him a grander opportunity to promote Guyana and work in the country's interests. "My goal at the end of it is to become an ambassador for Guyana and to contribute to national development and to ensure that Guyana is portrayed on the international scene for what it really is – a true haven," he expressed.
Saeed also manages a non-governmental organisation called Frens, that works with underprivileged youths and persons with disabilities. Having co-founded it in 2016, the organisation helps to raise money to help persons with 'COVID-19 hampers' and back-to-school items, etc.
As mentioned earlier, Saeed is big on proper time management. "I try to ensure I take a weekend off, or a road trip, or hang out with a friend or go to the park and take some photos. There's this perception that men shouldn't be concerned about mental health issues, but I try to keep on top of mine," he said.
As such, Saeed loves to dabble in art and photography and would even feature some of his work at display booths and exhibitions. "I like to ensure a balanced life, because there's a lot going on in my work life. I try not to work on weekends and bring work home. My goal is to do as much as I can now, so I can rest later in life," he expressed.