IT was the hard work and sacrifices of her single-parent mother that allowed Thalia Karina Thompson to pursue her dream of becoming an attorney.
On Tuesday, she was admitted to the local bar by Acting Chief Justice, Roxane George, and can now practise law in Guyana.
Her petition was presented to the Demerara High Court by prominent attorney-at-law, Teni Housty. During a brief address to the court, Housty encouraged the 26-year-old attorney to "blaze the trail" of pioneering female jurists in Guyana and the Caribbean.
Recently, former Chancellor of the Judiciary of Guyana, Justice Désirée Bernard and the late Iris de Freitas Brazao and Gladys Ramsarran – both born in British Guiana — were recognised by the Caribbean Court of Justice (CCJ) Academy for Law as pioneering Caribbean women jurists.
Housty encouraged the young attorney to continue "breaking the glass ceiling" as she advances in her career.
Thompson graduated from The Bishops' High School in 2012.  In 2019, she graduated from the University of Guyana's Turkeyen Campus with a Bachelor of Law degree.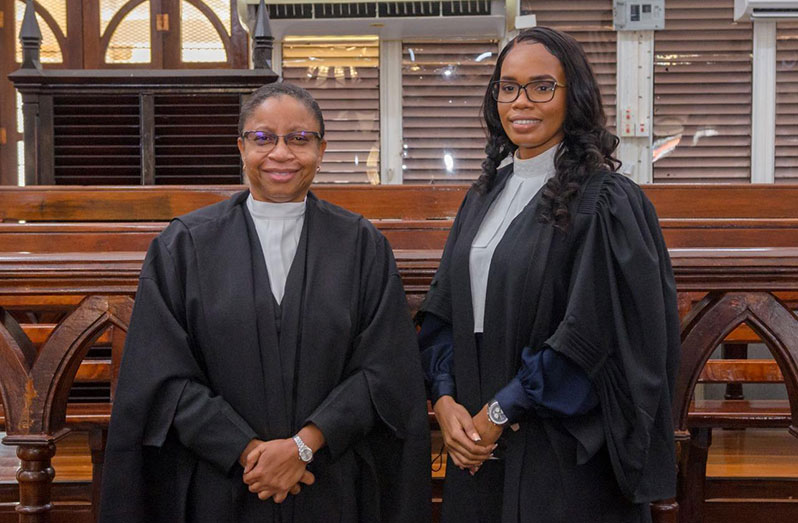 Later that year, she commenced the first academic year of the two-year course of studies, assignments, examinations and practical training for her Legal Education Certificate (LEC) at the Hugh Wooding Law School (HWLS) in Trinidad. Finally, in September 2021, the young lawyer was awarded her legal certification.
The Chief Justice, who is a Bishops' alumna herself,  explained that Justice Bernard has blazed a trail that has allowed female jurists to follow in her footsteps. Using a piece of advice which was given by Justice Barnard, the Chief Justice told Thompson to, " always be committed to excellence."
It was a sentimental moment for Thompson when she addressed the court for the first time as an attorney; she said that her journey was possible with hard work and determination.
She said that her mother was a pillar of strength.
"My mother raised me as a single parent. She was a nursery school teacher. Somehow she managed to do it all on her own and still managed to be my rock, my inspiration and main motivator. It is because of her that I'm here today…I saw my mother work so hard and it encouraged me to excel academically," the young attorney said.
It was her desire for excellence that landed her among the top 25 to attend the HWLS. She was able to secure a government scholarship and would later rank at number five at the end of the two-year programme
She explained, "Indeed the journey doesn't end here for this is only the beginning."
Thompson also paid special homage to her alma mater, The Bishops' High School, saying that she prided herself in its Motto: "Labor omnia vincit", which, in Latin means: 'Hard work conquers all'.