MAHENDRA Agard is a resident of Sarah Johanna, East Bank Demerara, and has been residing there for the past 23 years. His house is among one of the nearest to the public road and he is well-known and well-liked in the community.
The 40-year-old is a chain saw operator, who worked in the interior most of his life, but due to the pandemic and other issues he is at home and being supported by his children.
The father of four told the Pepperpot Magazine that life in the village is good; once there is employment, things are okay.
"I am here long now, of my four children my big daughter born and grow there, so that is how long I have been here and it is a place I like and will stay," he said.
He related that they need only a proper road because when it rains, the do-it-yourself street they sand-filled would get soggy and fall apart.
"Right now I am not working but I am looking for a job, because people owe me money for work I did and they haven't paid me yet, so going in the bush to work is risky. Since you have to go and work for reliable, trustworthy people that will pay up and then it is also dangerous and it is a chance you taking with your life," he explained.
Agard added that he is originally from Zorg, West Bank Demerara and after marriage he relocated to Sarah Johanna, where he started his own family and from the looks of things, he is contented.
He stated that his eldest son is a labourer and his eldest daughter is working, while the two others are of school-age and he is in the process of adopting his wife's niece, who is living at an orphanage.
In his section of Sarah Johanna there are two small, sand-filled streets leading to many houses, while in the squatting area, there are about 300 houses with up to 2,500 residents.
"I had to forget about the beams I put up to construct an upper flat of my house because the public road is bumpy and when the big trucks pass it[sic] creates vibrations to the structures and it would shake and cause cracks in the concrete. My sister's house crack up and they had to chip it out and re-cast it to prevent it from falling apart," he said.
He, like many other residents is concerned about their safety and would like something to be done to rectify the situation.
Agard disclosed that he is afraid that when the big trucks pass his house it would collapse one day and is asking that the issue be looked into by the relevant authorities.
The villager related that despite some challenges faced by the people, almost everyone is doing something honestly for work and they have no thieves there because they have zero tolerance for that kind of behaviour and it is not condoned at all.
The street where Agard resides is called Royston's Street, named after a well-known minibus conductor.
This village has electricity, landline phones and potable water in some sections and some people have internet and cable and others cannot afford it or have access to it.
Agard said the water pressure in this section is poor and he was forced to place a barrel in his bathroom just to store water for bathing purposes and often the pipelines are destroyed by vehicles and is hoping the area can be regularised, so they can have access to more facilities and services.
The shopkeeper
Ramanie Dookram is one of the eight shop owners within that section of Sarah Johanna Village and she is very family-oriented.
The mother of eight told the Pepperpot Magazine that she is a local of the community who has lived all her life there and for her that is home.
The 49-year-old stated that the people in the village support the small business, the shop and they live in harmony.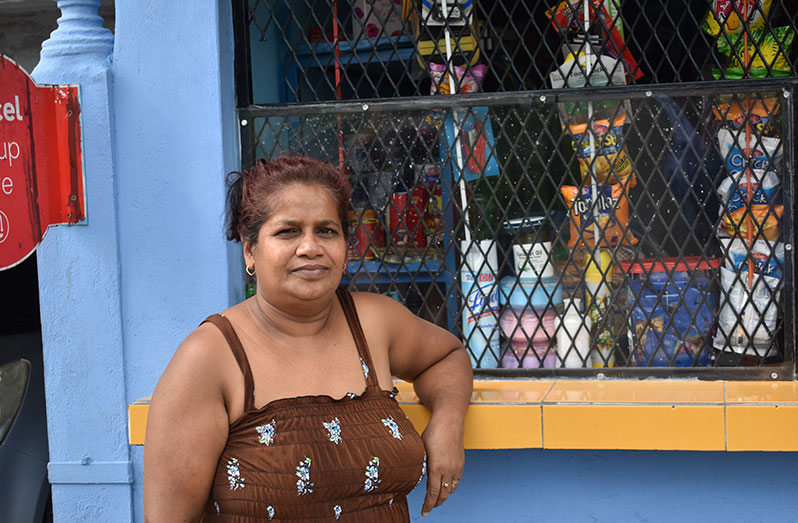 She has three sons and a daughter who live with her and is the grandmother of six, while most of the children are married and living elsewhere.
Dookram reported that she used to work at the Rose Garden Restaurant as a cook but retired and is enjoying her golden years these days.
"I worked hard most of my life, so it is time for me to relax now and look at my grandchildren," she said.
She added that Sarah Johanna is a nice place to live and she does not see herself residing elsewhere.