LIFE for Sheldon Corlette in Sarah Johanna is all about 'the hustle,' that is, doing many things to earn an honest dollar to keep food on the table and pay the bills.
He has come a long way to be able to build a house and settle in the squatting area section of the community, where the people came together pooled their money to buy sand and converted a mud dam to a sand-filled street, giving better access to villagers to traverse.
The father of one has a small shop which serves as a bar, has a pool table with some wooden chairs and tables and he does a barbeque at times and would also do catering for events and functions.
He takes care of manning the shop while his wife does the household chores and would buy meats by the bulk, and parcel it off cleaned and seasoned with green seasoning, spices and ready for the pot of cook-up rice and the meats include chicken foot, pork, beef, and chicken.
Corlette, a mild-mannered man, told the Pepperpot Magazine that he built his house in 2001, a wooden two-storey building, after converting his yard into a sand-filled plot of six feet higher, since it was a swamp he used to catch fish (hassar).
He revealed that the swamp also had large trees that he had to uproot and cut down and had the swamp cleared before he could construct his house, where he later added a small shop selling groceries.
Corlette used to reside in the city and when he started a family, he wanted to have his own house and decided to relocate to Sarah Johanna Village. He was familiar with the place; being a minibus driver in those days, he heard of squatting lands and enquired.
He stated that he was offered a plot at Sophia when he was 19 years old, but refused, because he did not like that village; so he refused and is glad that he did, because Sarah Johanna is a good place to raise a family, even though they don't have everything.
"I was a bus driver on the East Bank corridor for more than 20 years even before buses had no zones, so I know about these villages up here and I get to like Sarah Johanna because it is quiet and peaceful and we don't worry about thieves or crimes here," he said.
Corlette told the Pepperpot Magazine that living way down in the "backdam" has its fair share of challenges, but through self-help, the residents made a makeshift road but when it rains, it is flooded and becomes very messy.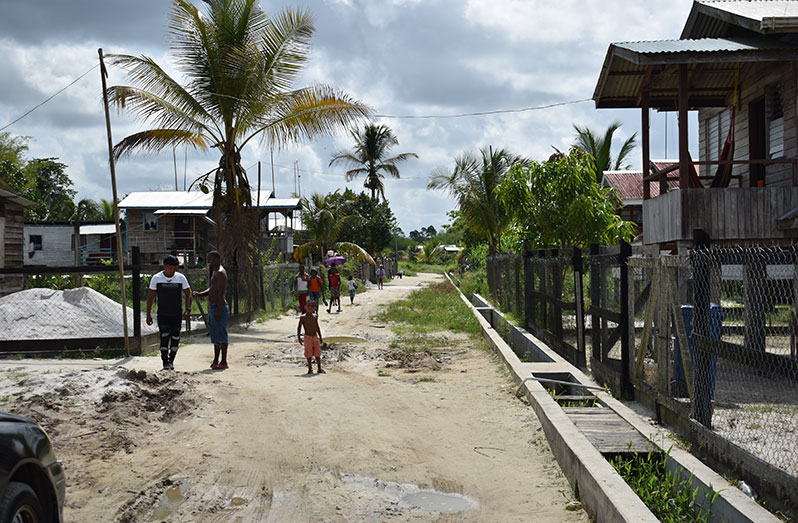 The place would accumulate water quickly since they have no drains, but they would try to do whatever they can to make the place liveable and he also filled up a passageway that used to run through his yard.
In this section of the "backdam" area, the squatting part, there are about 23 houses and they do not have potable water and would buy a black tank for $1000 for drinking and cooking.
Rain fall water is stored for household chores and like any other village people have some quarrels at times, but nothing serious and some people would play music and live normally.
"We live good at the back here, it is a safe place, people does work, do anything to earn honestly and the only thing that goes missing here is your lighter, nothing else," he said.
Corlette stopped driving minibus, sold of his bus and is living a simple, honest life in Sarah Johanna by operating a grocery shop, where he would have a barbeque and is selling seasoned cook-up rice meats.
He is well-known and respected likewise in the community and his shop is the place where people meet to chat and sip on a cold beverage to ward off the heat of the sunny weather conditions.
He and his fellow residents of Sarah Johanna looksout for each other and they have a crime-free village where people are safe and children can play freely in the village without worrying about anything.