CRYSTAL Hopkinson is making a difference in the lives of children in her village by providing extra lessons at her home since the pandemic began.
She is a resident of Sarah Johanna, East Bank Demerara and her mother, a former school teacher in Berbice would also pitch in to assist her when she is overwhelmed and she recently secured a full-time job.
It started when schools closed their doors last year and everyone was at home; the children in her street showed up for tutoring and she readily agreed, because she did not have the heart to turn them away.
It was a time when many people had to adjust their lives and staying at home was one of the things people had to do to reduce the spread of the virus.
It was an unprecedented time and everybody was frustrated, including Hopkinson, who was not working.
One day she was at home and a few children from her neighbourhood came to ask for help in doing their school work and she accommodated them in small groups at her bottom house.
As word began to spread about the extra lessons, others came and at one time, she had to bring down the furniture from her living room upstairs to accommodate the children.
Hopkinson ensured she had a blackboard and some wooden benches and desks were made to provide adequate seating accommodation for the children. The teaching area is under the house, but in an open-air setting.
She began taking younger children in the morning period for three hours and in the afternoon session she had older children and they came from the same village and other nearby communities.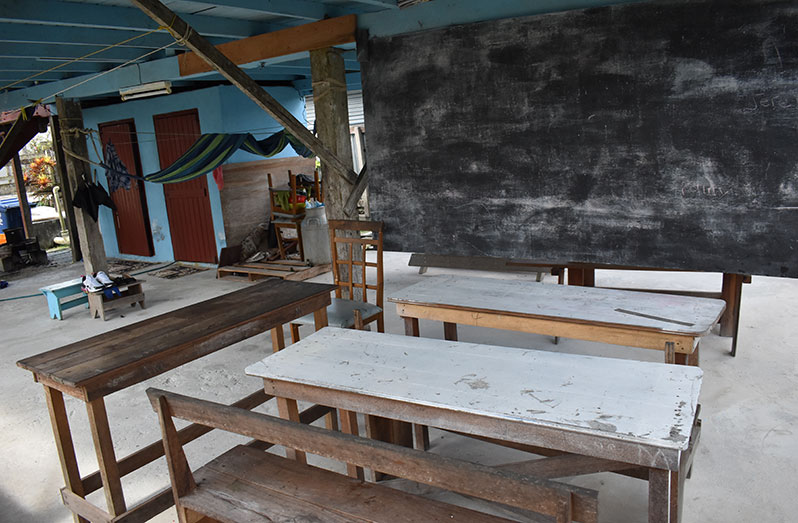 With her mother being a former teacher, she asked for help because the children came out in their numbers and she alone could not manage.
Hopkinson told the Pepperpot Magazine that she did it because she realised the needs of the children, most of whom were at home with no one to assist them since most parents worked.
"I came from humble beginnings, so I know what it is like not having access to things such as extra lessons and I was in a position to help and I did what I can for the children and it felt good, because I want to give back and it was the perfect way to do it," she said.
Hopkinson likes children and was a teacher at a private school (Alpine Academy) in Timehri for three years.
She is also active in church, Soesdyke Seventh Day Adventist and is a Master Guide in the congregation, where she would utilise her teaching skills to share knowledge among her peers.
The 20-year-old related that she wanted to reach out to children and the extra lessons was the way to do it where she assisted with worksheets, printing, research and other homework, free of charge.
Hopkinson stated that when she is at work her mother would help the children and on weekends she would take over.
"It is a fulfilling feeling, being able to lend support to children, most of whom cannot afford to take private extra lessons and they all come from depressed communities," she said.
For Hopkinson, it is not a money-making venture and her only intention is to assist children in completing their school work.
Meanwhile, Carol Hopkinson, a former teacher from Rosignol, West Coast Berbice, told the Pepperpot Magazine that when her daughter began hosting the extra lessons at their home she was overwhelmed, so she assisted.
The mother of two added that with her experience she was able to guide her daughter and the children to meet in small numbers and had different sessions per day.
She mostly assists children from the nursery and primary levels during the day, at least four days per week.
Since she has her own small business of rearing meat birds and household chores to deal with, she would take intervals after hosting classes.
The open-air setting under the house in Sarah Johanna Village is clean, tidy and all the children are masked at all times and they practise hand-washing and social distancing.