–as natural gas prices improve
IN addition to oil, ExxonMobil is also projected to benefit from higher natural gas prices that are expected to boost the company's third quarter upstream profits by some US$700 million.
The benefits which would accrue to the company as a result of the increase were outlined by ExxonMobil in its third-quarter earnings guidance, under the Securities and Exchange Commission Form 8-K filing, which is slated to be released later in the month.
Snippets of the report were released by Natural Gas Intelligence (NGI), which said that current gas prices will see correlating earnings surpassing that of oil, when compared to its second quarter earnings.
ExxonMobil has also projected that natural gas usage will continue to expand rapidly across the world.
"We expect about 40 per cent of the projected growth in global energy demand from 2016 to 2040 will be met by natural gas," the oil company related.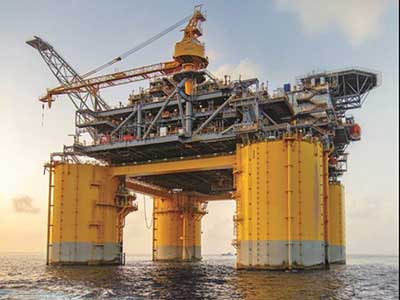 The company said too that even though all of the world's energy sources will be needed to meet rising global demands, there will be a "marked shift" toward cleaner fuels, particularly natural gas.
"Not only are natural gas resources geographically and geologically diverse, abundant, reliable and versatile in use, but [it] also emits significantly fewer pollutants than coal-power generation," ExxonMobil said.
As it relates specifically to Guyana, the landmark gas-to-energy project will see the construction of massive pipelines which will run from the Floating, Production, Storage, and Offloading (FPSO) vessels offshore Guyana, to an onshore natural gas processing (NGP) plant located within the Wales Development Zone along the West Bank of the Demerara River.
As part of the US$900 million project, the pipeline will transport approximately 50 million standard cubic feet per day (MSCFD) of dry gas to the NGL plant, which will then drop the pressure of the gas, dehydrate it, separate out propane, butane and pentanes+, and treat the gas to the specification to be received by a power plant, which is also in its planning stages.
Once established, the power plant will be owned and operated by the Government of Guyana until alternative ownership options are considered; its operation is projected to save the country some US$150 million annually.
The gas-to-shore project, which is expected to last for some 25 years, is a mere component of the Dr. Irfaan Ali administration's plan to cut electricity costs by 50 per cent before 2025. This plan is expected to be driven by an energy mix that will see solar, wind, hydro and natural gas being utilised as key sources of energy.
The implementation of this mix, which would include the iconic Amaila Falls Hydro Project, is expected to provide Guyana with 400 megawatts of newly installed power. As it is, the national grid is providing 120 megawatts of electricity, an amount which is equal to the consumer demand of 117-120 megawatts of power.
The expectation, as previously outlined by President Ali, is to position Guyana as the energy capital of the region.
MAJOR PLAYER
"Our potential to become a major player in the energy market is not only limited to our borders, but we have already commenced discussions with our neighbours– Brazil and Suriname– in the establishment of an energy corridor," President Ali said previously.
Nonetheless, in addition to natural gas, ExxonMobil is also eying improved oil earnings, with prices remaining high and predicted to increase further.
The oil giant is anticipating increased quarterly profits by about US$400 million in the third quarter of 2021, as compared to the second quarter.
"Wider refining margins, along with less maintenance downtime, should add US$600 million," NGI added.
On the contrary, NGI said that ExxonMobil's chemicals arm, which, in the second quarter of 2021, had the best quarter in the company's history, is forecast to see a US$300 million decline in sequential earnings.
Nonetheless, in the NGI report, BMO Capital Markets analyst, Phillip Jungwirth, was quoted as saying that the upstream earnings forecast "exceeds consensus" by a wide margin.
BMO expects ExxonMobil to report US$12.6 billion in cash flow from operating activities, "well above consensus of US$10.6 billion," with US$8.7 billion free cash flow, Jungwirth said.
Additionally, NGI said that while there were concerns by some analysts that ExxonMobil would be pressured into reaching some of its financial targets, that appears to no longer be the case because of rising commodity prices.
Consequently, Jungwirth, according to NGI, predicted that ExxonMobil would hit its US$10-20 billion debt repayment target by mid-2022 or before, with net debt to capitalisation of less than 20 per cent by the middle of next year.
A significant chunk of ExxonMobil's profits could be linked to its operations offshore Guyana, which continues to be more and more lucrative.
With 22 substantial oil finds already recorded within the past few years, Guyana is rapidly approaching 13 billion barrels of oil equivalent resources,
In fact, within the coming months, the Guyana basin is poised to witness the country's largest ever oil exploration campaign.
ExxonMobil, via its local affiliate, Esso Exploration and Production Guyana Limited (EEPGL), has already submitted a document outlining its plans to the Environmental Protection Agency (EPA).
In the submission, the company said that Guyana's oil reserves could more than double its confirmed nine billion plus barrels of oil equivalent, once drilling commences in the Stabroek and Canje blocks.
Those heightened exploration efforts are expected to run until December 2025. The oil company said that it plans to drill a total of 37 wells at the Stabroek block alone.