JULIET Williams lives a simple life at Loo Creek, Soesdyke/linden Highway, with her six children in a small wooden cottage.
The 32-year-old is a housewife and is supported by her husband, who works at the nearby poultry farm in the village.
Although she was born in the Berbice River, Loo Creek has been her home since she was a young girl.
She describes life there as very simple, but it entails hard work because there are no real jobs around there, so they try as much as possible to ensure that they are comfortable.
Her house is within walking distance from her parents.
The skilled mother
Meanwhile, her mother Esmaralda Williams is skilled in making handicraft and was making a living out of it until her overseas buyer passed away.
It caused her small business to flop because the local market is not steady and she would make only things when she has an order.
The 64-year-old is a homemaker and would go along with her husband to cut wood in the forest and make paddles,and handles for gardening tools.
She can use a chain saw and she is very skilled in making wood products as her husband can.
She is versed in both tibisiri and ite palm craft and says it is a long process to make these craft items; because of it she has to dedicate time to fulfil an order.
Williams reported that they prefer to work with themselves and even though things are slow and money is "tight," they still try to live within their means.
"Life is okay and we are accustomed to the simple way of life, so with nothing fancy and the basic things needed we get by and this place is our home," she said.
The mother of 10 stated that some of her children live in the same village, while others would visit and she is happy she can see them all at times.
Williams related that she had 10 children but one died by accident and she is still grieving for that loss.
"Life here and that in the Berbice River where I am from is no different, because you still have to work and make life good and the environment is almost the same, except we have a lot more forested areas here and there is no river nearby," she said.
Enoch Persaud
And in the same village there is Enoch Persaud, a young man with a disability, whose left leg was amputated when he was a boy.
The 23-year-old told the Pepperpot Magazine that when he was 11 years old a venomous snake bit him and he had some delays getting to the hospital; as such it was too late to save his leg, so just below the knee it was amputated.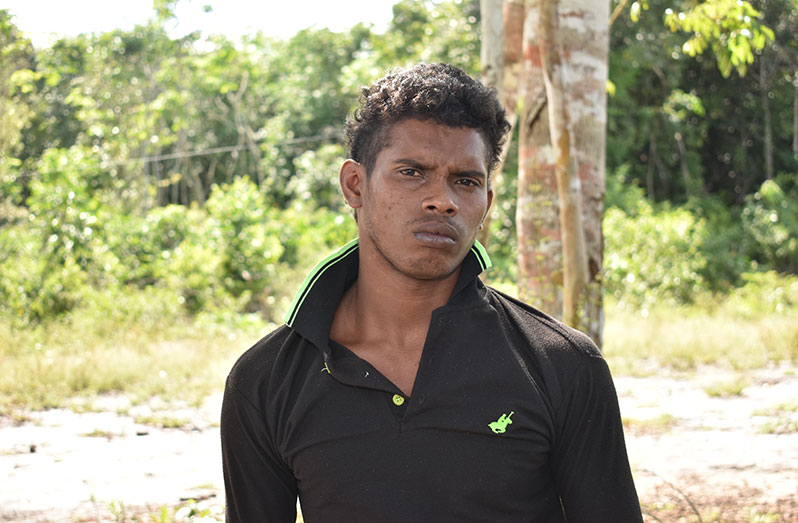 He would get around on a bicycle and doesn't allow his disability to hamper him in any way and would go in the forested area to cut wood to make t-shores to sell and burn wood to make charcoal.
Persaud lives alone in a house owned by his father, who was the victim of an accident two months ago on the highway.
The house is located deep within Loo Creek and he is often by his neighbours, who would provide a meal for him almost every day.
"If I get a prosthetic leg I don't mind, but I try without it as is and if I get a power saw, the cutting of trees will become easier for me because I am doing it manually as is," he said.
Persaud hardly ever leaves the village and he is often at work or looking for odd jobs in the village to offset personal expenses.
He is unmarried with no children and says life is not easy living alone and is of the hope his family will join him soon.
"I suffered a terrible loss when my father died in that accident and nothing came out of that story and I feel it today because he used to help me," he said.
Persaud told the Pepperpot Magazine that he feels lost and is suffering from depression, since his father died and is not sure if he will ever be the same again.