DOCTOR Leon Cambridge returned to Guyana, his country of birth, after spending most of his life overseas working as a medical doctor. He has invested in excess of $160M to establish a large-scale poultry farm at Loo Creek, Soesdyke/Linden Highway.
The physician, a mild-mannered man, who has in his employ some locals from the village, Loo Creek, related that after working his adult life in the United States (US) he decided he wanted to return to invest in the local economy.
"I was homesick, the place of my birth, my country, I wanted to come home and I did after some brainstorming and decided to start my own poultry farm because I missed my people, our unique culture, and way of life and here I am," he said.
Dr Cambridge however, partnered with Bounty Farm Limited and is providing meat birds, locally hatched and grown to that company on a large scale every six weeks.
He explained that Bounty Farm Ltd. would show up in large canter trucks to collect 50,000 meat birds every six weeks, which are plucked and packaged for their stores across the country.
The re-migrant has three large chicken pens outfitted with fans, automatic water cans, and adequate feed cans housing the chickens and is constructing a fourth pen.
The plot of leased land is 40 acres which he had cleared when the project started last November, and the land can comfortably hold eight large chicken pens.
Dr Cambridge has six staffers and he commutes daily from his home in the city to Loo Creek, where he is on site to get down and do work alongside his employees.
"As a boy, I left this country but remembered that the late President Cheddi Jagan used to be among the people, on the ground and our current president Dr. Irfaan Ali is an example of a people's president since he is often on the ground on outreaches and his vision for farmers is ideal, because he understands what it's like to be a farmer," he reasoned.
The re-migrant stated that the Seventh Day Adventist Church has leased 40 acres of land to him for his poultry farm and he says it is a work in progress, since much more needs to be done to make the place he wants it to be.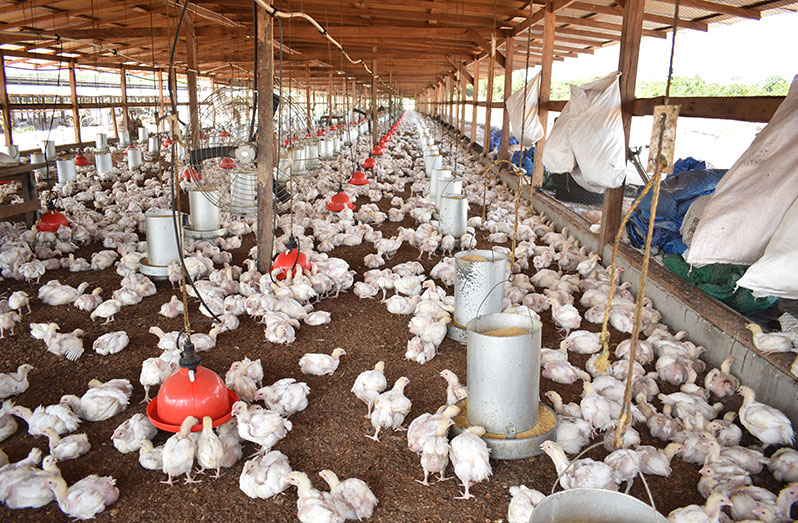 "I always liked farming and animals and wherever I went, I had a farm, so it is ingrained in me and this is what I wanted to do: have a poultry farm where I employ people and give back to the economy through my investment," he said.
He reported that the generator system alone costs $16M and spent six and a half million to clear and prepare the land and built a loam road.
Dr Cambridge added that he has to import some trucks, farm equipment and he was told he has to pay in excess of $10M alone per truck.
He told the Pepperpot Magazine that he wants to import three trucks which would be vital for his operation, but the taxes are really out of his pocket kind of money to spend presently.
"When I came back here in November last year, this place was thick forest and within months I was able to get this project started and I investment what I had and here I am still spending and building," he said.
Dr Cambridge disclosed that he is here to stay and is willing to go all out to ensure his poultry farm stays in operation and he is open to partnership.
As things progress, he is thinking of employing more people and will give back to the community in time, once his business takes flight and he can afford to.
The re-migrant is friendly with the locals and his door is open to them at any time and he is willing to provide employment for the young men in the village.