AT 67 years old, a lot of men would be reclining in their retirement age, but not Brother James Forde, a staunch Seventh Day Adventist church member. He is a farmer and spends every day on his farm tending to his produce and layer chickens.
Even though it is an uphill task for this elderly man when the sun is out, he does all the work himself because he cannot afford to employ any workers just yet.
He would take a break and then go at it again to ensure his layer chickens are fed and eggs are collected daily, and when that is done, he has his farm in his backyard where he was putting down 300 passion fruit trees.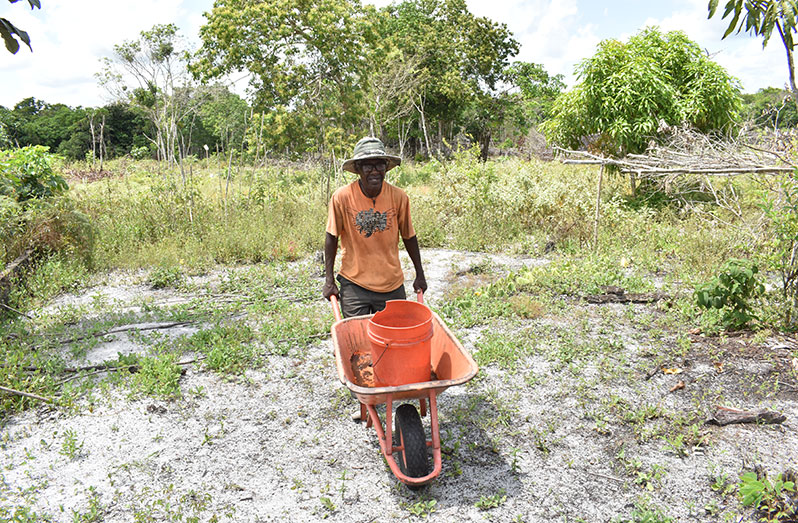 James is a resident of Loo Creek, Soesdyke/Linden Highway and is also tasked with all household chores, including baking his own bread; being a vegetarian, he doesn't eat out and makes his own meals daily.
His land space is quite large and he has some citrus,an orchard and vegetables which are organic and wholesome.
James is originally from Linden, Canvas City, Half Mile and Amelia's Ward and after he separated from his first wife he left that region and relocated with his three children at Haslington, East Coast Demerara.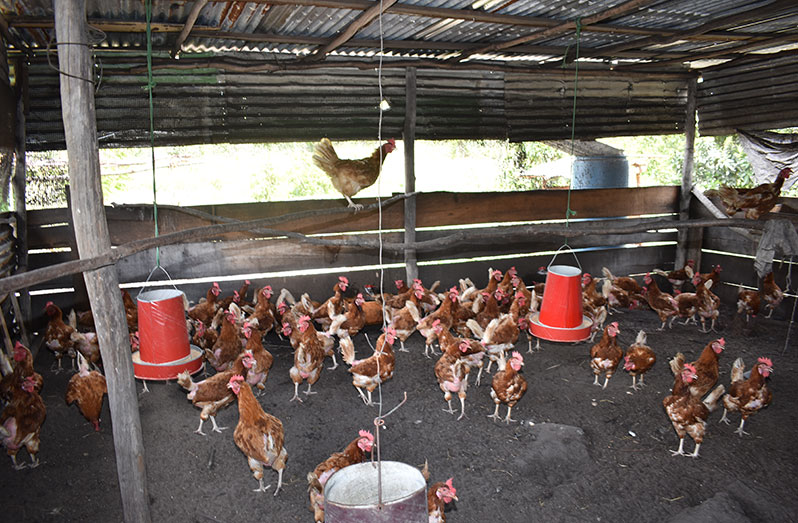 Sometime after, he was allocated land at Loo Creek through his church and he moved there and started his poultry farm and began cultivating many crops to earn.
In his younger days, he did other jobs, including being a bauxite operator and at Banks DIH as a salesman.
James has been residing at Loo Creek for the past seven years and he has a sibling who stays with him to assist and he would transport the eggs to the city to sell it.
"Since I small growing up I like to use my hands to plant and tend to chickens and I am making my living this way today," he said.
The father of three related that he has more than 190 layer chickens and the eggs are collected and sold. In one day he would get five to six trays of eggs.
James has converted five acres of his land to plant and has some chicken pens and his main crops are citrus, and passion fruit.
Being without electricity and potable water supply is not easy, so he has some small solar panels for lights at night and he would collect rainfall water in barrels to feed his layers and do chores.
When James came to Loo Creek seven years ago, it was just thick bushes and forest and he managed to clear his plot over time and built a small wooden house and began living there.
He is confident however, that his house will soon be outfitted with large solar panels, an initiative which materialised through the last administration which is finally becoming a reality.
James told the Pepperpot Magazine that he has some dogs as pets, but only one survived tigers' attacks at nights and the wild animals are plenty there and would roam at nights, so it is safe to stay indoors after dark.
He and three other brothers in the church would meet up at a bottom house and worship, since they have no church in that village yet.
James is of the hope that a church will be constructed there in the community and will serve as a place of worship and a meeting place for locals.
Clay McAlman
Farther down the small trail is the home of Clay McAlman and his extended family, all of whom live in separate houses.
The 56-year-old of Buxton, East Coast Demerara relocated to Loo Creek, a year ago and has settled in that community.
The father of seven has tidied his yard and is planting and doing many things to earn, including being a carpenter and mason.
McAlman would also burn wood to make charcoal and sell.
His relative lives next door and they have a small grocery shop and is now building a bigger house nearby.
It is the home of Denise McAlman, who moved from the city to Loo Creek a year ago.
The 54-year-old is comfortable and has solar lights and is making a living selling groceries from her small cottage.
The mother of three stated that she likes the quietness and the nature-style living which is simple and basic.
She prefers the highway village as a retirement home and will remain in that village since it is peaceful and away from the confusion in the city.