–a scenic paradise
This week the Pepperpot Magazine visited Loo Creek, which is located along the Linden/Soesdyke Highway. It is a sandy village which is nestled in the forest.
A SMALL trail leads to this village where the residents are scattered on acres of land, which belong to the Seventh Day Adventist Church and over the years, plots were leased to settlers.
Loo Creek is between Long Creek and Kairuni villages.
The village itself is very large and most of it is still covered with trees and it has a creek aback the village and a section is used for farming.
Loo Creek is where the Seventh Day Adventist Church has its camp site.
In one section of the village there are four houses, small wooden cottage-styled ones where members of the Williams family reside and not far off a loam road leads to a large poultry farm owned by a re-migrant.
One the other side of the village, there are about 10 houses which are mostly far apart, and where several members of the Seventh Day Adventist Church live.
The community has a mixed population of Amerindians and Afro Guyanese and a total of 14 houses.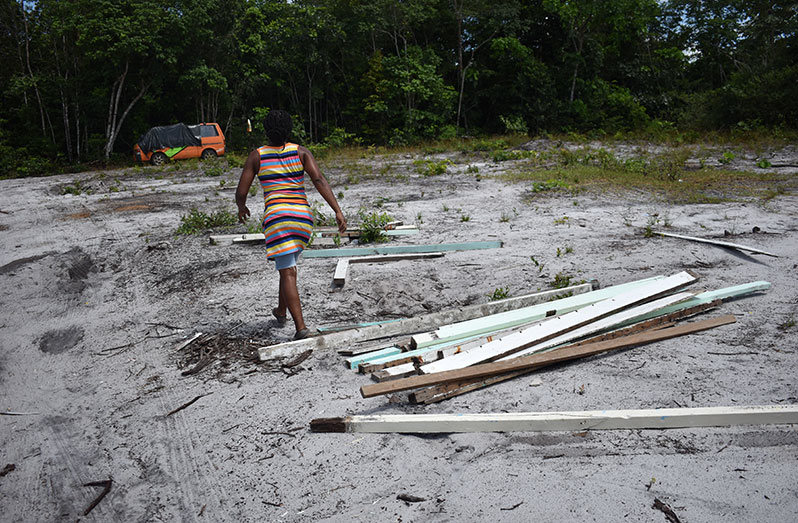 The village has about 30 residents and they all utilise their built-in skills to earn, mostly self-employed farmers, loggers, charcoal burners, carpenters and poultry farm workers reside there.
The people are friendly, welcoming and they lead very simple lives and they are trying to reach self-sufficiency level, but have many challenges while attaining that goal.
However, they are very resilient people who are there to stay and will find a way to become comfortable.
This village has a handful of school-age children and there is no electricity or potable water supply.
The locals use a small solar panel system, generators and lamps at night to illuminate the place and they use rainwater or source water from the creek, a few miles away.
Loo Creek is one of those picture-perfect villages nestled in the forest with the clearing of the land in some sections, a sandy, hilly village where the people use what is around them.
The locals reported that they do not get many visitors, but all visitors are welcome.
They are hardworking people who are making an honest living doing many things for work and they do not wish to work for people, but for themselves.
It was observed that a private company was contracted to erect concrete stations where solar panels will be mounted at several homes within this village.
Loo Creek is a village nestled in the forest and it is living in nature at its best where people and wild animals co-exist with little or no contact at all.
Some early settlers have been there for more than 65 years, while they have some newcomers and it is a quiet village where you can hear the birds chirp and enjoy the cool breeze when there are favourable weather conditions.
The children go to the nearby schools at Silver Hill and Long Creek and they also utilise the services at the health centres in those neighbouring villages.
Shopping is done in Linden or in the city and there is a shop in the village, where groceries and other essentials can be sourced without having to leave the village.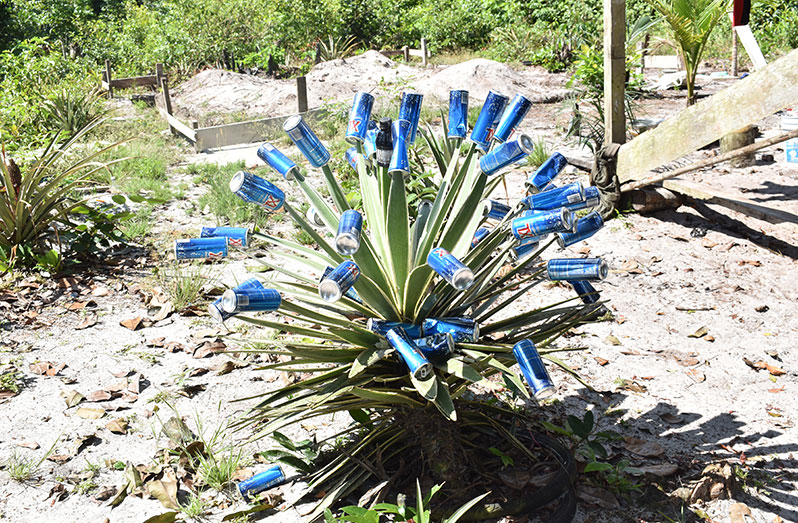 Loo Creek is a lovely, scenic place where the sun-kissed trees, hot sand and sunshine make it all worth the while.
The people have erected wooden tables and benches which serve as a meeting place and with a recent death of a villager, a wake was held there for the elder, who was killed in an accident on the highway.
The trees were cut and used to make furniture and used as posts for a makeshift tent and tables were carved from the trees that are around the village.
Loo Creek is an oasis, a quiet paradise where an adventure awaits, and this village has many small trails, all leading to somewhere.