LAST week, the Civil Defence Commission (CDC) reported that flooding at varying levels was recorded in all 10 administrative regions of Guyana. Region Six (East Berbice-Corentyne), Region Nine (Upper Takutu- Upper Essequibo), and Region 10 (Upper Demerara-Upper Berbice) have been, reportedly, the hardest hit.
When the great 2005 flood hit Guyana, I was barely five years old, so there is not much that I can recall. As such, the flooding the country is experiencing now is the worst I have ever seen. And out of curiosity and concern, I started reading as much as I could get my hands on.
According to a 2017 report on the drainage capacity of Georgetown, flooding in previous years has resulted in significant economic losses and disrupted the lives of thousands of people in Guyana. With recent reports of agricultural losses, damage to homes, buildings, and infrastructure, and the outbreak of some diseases, the same can be expected now.
What was striking for me, was that the report related that the network of open drainage channels in Georgetown was originally developed in the 1600s to irrigate and drain the sugar plantations that are spread across what is now Georgetown.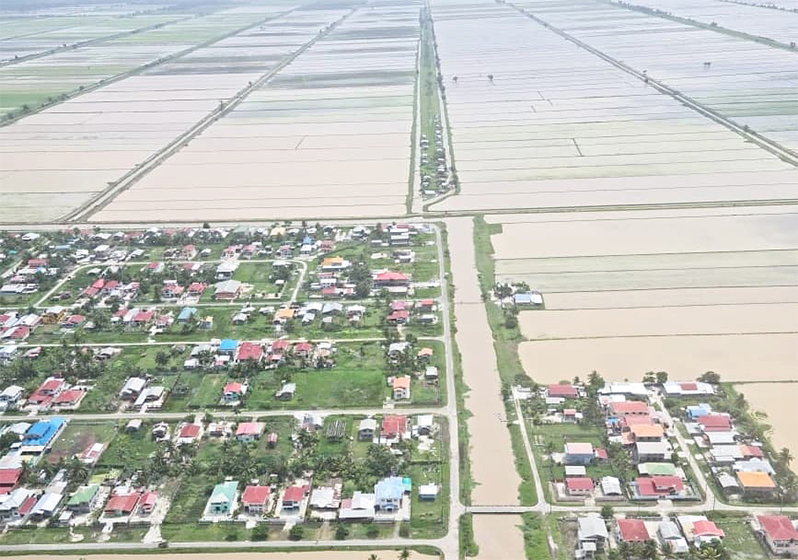 The report also detailed that there were several considerations such as the impact of climate change, that were absent from a local flood analysis of the city. The policies or strategies that the local authorities possess, as detailed in the study, seemed fragmented. And, there was no framework for specified improvements to the drainage systems.
One would hope that thoughts (and perhaps, actions) were given to these considerations, since that report was completed. If not, it is long overdue.
I say it is overdue because over the past nine months or so, there has been much talk and excitement about transforming Guyana. The country appears to be forging ahead with efforts of infrastructural development. Cognisant of the disastrous effects of flooding the country is facing now, the impact of increased rainfall and potential flooding should be a central part of these efforts. After all, much (but not all) of the development is expected to involve coastal communities and regions, many of which are below sea level.
We cannot envision development to be grandiose buildings and facilities, replete with smooth roads, without also thinking about how each construction must adequately prepare for the inevitable effects of climate change, specifically, increased flooding. And, I hope that we are thinking about this indeed.
This past week, the approach to flood control in the Netherlands was something I started reading about. The low elevation of parts of the country makes it vulnerable to flooding, not unlike Guyana. What the Dutch did was integrate flood control and prevention in the development of their cities. One illustration of this is the creation of open spaces in a city that functions as a flood basin. They have also continuously updated their drainage infrastructure.
Not to pin the solutions to our woes on Caucasian salvation, but I think it is important to note that the kokers, sluices, and drains that we rely on for drainage have been seen as part of the Dutch legacy while they occupied Guyana more than three centuries ago. We can learn from the Dutch.
With the current nationwide flooding, relief support is much needed. People's livelihoods and lives have been impacted and undoubtedly, support should be mobilised for them. But we cannot only focus on continuously responding to these challenges.
There is no individual or political leader that can control the water cycle that causes rain to fall. The rising sea levels and increased rainfall or, contrastingly, the drier dry seasons and unplanned savannah fires, are not occurrences we can peg on our current or previous political leaders. These are, quite frankly, symptoms of a changing climate caused by global industrialisation and development (without a focus on sustainability). It has been decades in the making and the catastrophic effects are being increasingly felt each day.
That said, our awareness of our vulnerability and susceptibility to the changing climate and its symptoms should force us to be more diligent in our preventative measures, instead of being forced to save residents from being washed away. These are things we can control and these are things that should be central to our pursuit of greater infrastructural development.
If you would like to connect with me to discuss this column or any of my previous works, feel free to email me at vish14ragobeer@gmail.com