DEPUTY Commissioner 'Operations' (ag) of the Guyana Police Force (GPF), Clifton Hicken, on Saturday, led a team of officers on an outreach to Leopold Street, Georgetown, where they engaged the residents and distributed several hampers and face masks to the families within the locality.
According to a press release from police headquarters, the visit forms part of the GPF's strategy to re-engage communities in an effort to further strengthen the relationship between the Police Force and members of the communities.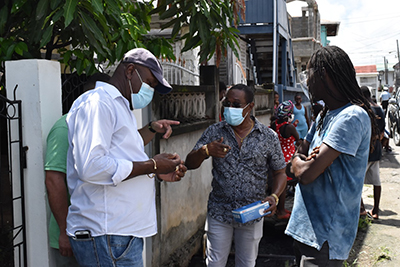 Mr. Hicken was accompanied by Deputy Commander of Regional Division 4A, Superintendent Guy Nurse, along with other senior and junior ranks within the division. Police reports indicated that the team was welcomed by members of the community, who came out in their numbers in support of the initiative.
The press release noted that the initiative was reignited by Hicken, who has been supportive of the community since he occupied the position of Commander of then 'A' Division.
The food items were donated by KGM Security Service of 74 Izora Drive, Bel Air; Omo Security Services of Happy Acres and Tecnomill Guyana Inc. of Eccles.