ALIN Crighton is a resident of Speightland Village, McKenzie, Linden, in Region 10 (Upper Demerara-Upper Berbice) and he is doing whatever is in season for work.
The 34-year-old told the Pepperpot Magazine that he is originally from the other side of the Kara Kara Creek, that is, Block 42 Amelia's Ward, but relocated to Speightland Village since 2006.
"I would do some brush-cutting, carpentry, masonry and make axe handles and whatever else is in season to earn, because here you don't get steady jobs so you have to constantly seek employment and you will wherever that leads," he said.
Crighton was outside his yard, on the bridge to be exact, patiently shaping a piece of wood he had cut from the forested area in his village with a cutlass to make an axe handle, which he would sell for $1,500 to $2,000 each.
It is a painstaking task, but he is up for it because it was a rainy day and it was work for that day, so he would be able to earn.
Crighton reported that first, he would have to source the wood which is chopped off the branches of large trees and shape the wood using a sharpened cutlass and that alone would take about an hour or two to complete.
After it is shaped to his liking, it would be smoothened using special hand shears and the completed hand-made wooden axe handle is completed and ready for sale.
"I would use my time to do things and today I also have a bicycle to repair and being multi-talented is a gift, because I can do many things," he said.
Crighton stated that Speightland Village is home for him and doesn't see himself living anywhere else.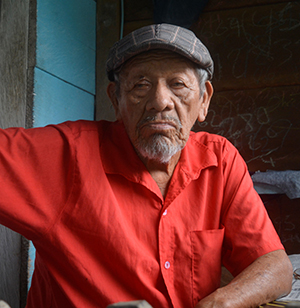 He reported that over the years the place has developed to an acceptable standard with the basic necessities to be comfortable, but the roads need upgrading.
Rena Da Silva
Shopkeeper Rena Da Silva is a spritely woman, who was keeping the shop for her daughter, who had gone out to do some errands.
The 54-year-old added that she is originally from West Watooka, Wismar, Linden, a small farming community, but relocated to Speightland Village a few years ago to be with her daughter and family.
The mother of eight stated that life is fair, but she is worried about the high prices for groceries because it doesn't leave any margin for even a small profit.
Her daughter owns the Creek View Grocery Shop and document centre, which does web browsing and printing.
Da Silva pointed out that their small business is surviving because, being the neighbourhood shop, the people in the village support it.
She explained that there is no other document centre in the community, so they decided to open a small space that allows for printing and the use of the computer and internet for the convenience of villagers at a reasonable cost.
Da Silva added that they would do bulk shopping in Linden and stock their shop, and would also buy meat and greens for the kitchen; but some people in the village have gardens and they would also buy from them.
She noted that the village is underwater, the water is rising, and it is just a few feet from her place and if the rain continues the creek water will rise and they will be flooded too.
The village tailor
Dennis Spellingburg is probably the oldest resident of Speightland Village and these days he doesn't have the urge to work and would enjoy the leisure of reading the newspapers, watching television, cooking and eating.
He is 82 years old and is very satisfied with life, because he has a well-painted cottage that sits on a plot of land with many fruit trees and is quite comfortable as is.
This senior citizen told the Pepperpot Magazine that financially, he gets by with his pension and doesn't pay any utilities and would take sewing jobs whenever he feels like it.
"I get lazy these days and I don't really want to work and I would use my time to cook and eat four times a day, so I am doing well and in fair health," he said.
That day, even though it was very rainy and all day, Spellingburg had prepared a meal of squash with chicken and rice and was waiting for lunchtime.
He stated that in the evenings he doesn't use any rice and would make tea with something light before bed.
"I like to relax and after lunch, I would sleep for two hours before getting up to read the newspapers and it has become my daily routine after cooking and I get used to being alone and it is good to have freedom," he said.
Spellingburg is a happy elder, who doesn't ponder things for too long and would often sit in his little verandah and have a lookout to pass time and it is the spot wherehe would read the newspapers daily.