– How one family recovered and vows never to become complacent
THE Lupuku family is one that spared no effort in upholding the safety guidelines and protocols of the dreaded coronavirus disease (COVID-19); yet the entire family was infected while they helped to care for a family member. As horrid as the experience was, the family has learnt valuable lessons about COVID-19.
For one thing, they've vowed never to become complacent about upholding any safety measure, and they've come to see firsthand that a lack of education about the virus can make people treat others disdainfully.
After fully recovering from the virus, they've had their share of people continuing to avoid them and treating them as though they were still positive cases. It took a toll mentally, and it was draining, especially when Indira had to be in the hospital, away from her family.
The ordeal has also helped them see the things that matter most in life and not to take for granted simple things such as family time and a hug from their children. "It gives you a new perspective on life because you were so close to not being here anymore; it gives you a new perspective on your relationships and the things that you take for granted daily," Indira reflected.
"Just time spent with my children; to look at them, feel them, touch them…a simple hug took on so much more meaning. It makes you think about your priorities," she expressed during an interview with Pepperpot Magazine.
It all started when her mother Liloutie Jairam contracted the disease at her place of work and as Indira shared in helping to care for her; she too, along with her husband Victor and their two children(ages six and nine), became infected.
At the time of contracting the disease in August 2020, it was not easy for the family to be tested for it and so even though the mother went to the hospital, she was not tested for COVID-19. She then went to stay with Indira and that's how the whole family became sick. The entire family was later tested sometime after and it was confirmed that they were all infected with the disease.
Indira started her quarantine at home but after two weeks, she was still positive. Starting to get shortness of breath, she went to the Georgetown Hospital and was subsequently sent to the Infectious Diseases Hospital at Liliendaal, East Coast Demerara, after the doctors could not pinpoint why there was no improvement in her breathing.
Everyone at this hospital provided excellent care to Indira and she continues to be grateful for the kindness shown to her there. But even so, being away from her family was hard to cope with. By the time she was admitted, her family had already recovered. She'd have to see them through her window at the hospital as they made their way to the seawall to see her from there.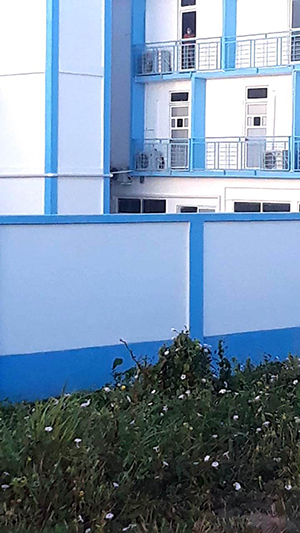 While in hospital, just dealing with the fear of COVID-19 can be crippling. "Your mind goes really far at times. Looking at my mother having it so bad made me wonder if it will happen to me too and what will happen to my children. When it came to shortness of breath, I got very fearful. I started to wonder if I would make it," Indira recalled.
Although she was discharged from the hospital seven days later, life was surely not ready to get back to normal for Indira. Although she'd never had breathing problems prior to contracting COVID-19, she now became dependent on an inhaler to breathe.
It was a kind doctor who recommended that she begin physiotherapy at the Ministry of Health's Rehabilitation Department based in the compound of the Palms Geriatric Home, quite ably headed by Senior Physiotherapist Barbara Lawrence.
The situation became so dire that for months, Indira had to sleep in a sitting position, or if she'd go flat on her bed, she wouldn't have been able to breathe.
She also couldn't do much walking or engage in any kind of exertion. "From the minute I started physiotherapy, I got relief. My physiotherapist was very patient when working with me and did not compare me with her other cases. Her techniques helped me bring up mucus and my breathing improved," Indira recalled.
After six weeks of physiotherapy, she no longer needed an inhaler and the problem with breathing went away. Indira is grateful that the doctor who suggested physiotherapy looked outside the box and explored all of the options available for bringing her relief. She is hoping that more doctors will do the same.
The physiotherapist who helped Indira, Anesia Persaud, said working the case has been very insightful to her, even as she works with several other patients who have recovered from COVID-19. "Therapy plays a major role in the before, during and after process of COVID-19," she commented.