WITH a lot of people feeling frustrated and boxed in, Melissa 'Vanilla' Roberts feels that her new song 'Soca My Heaven' can make a difference as it takes its listeners to a happy place.
Written by her and Ofei Clake, Vanilla said the song makes her feel free, especially in light of the confinement due to the Coronavirus pandemic.
The new music was released this week on radio and Youtube and all social media platforms. "It's the first song I have released after Mash," Vanilla explained. It was produced by Burchmore Simon and recorded at Sound Garden Studio
"A lot of people enjoy listening to Soca and it really takes you to a place of happiness," she expressed in an interview with the Buzz, adding, "A lot of people are frustrated and boxed; we are not free to go to events, have a show or have fun."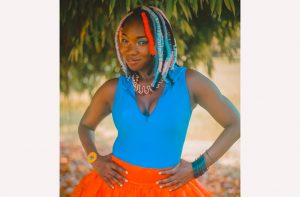 Roberts is all set to produce her latest film, "Eating Papaw on the Seawall" – a story about love and how it navigates hate in darkness. In an interview with Buzz recently, she said the film's writer Rae Wiltshire of Counterpoint Productions submitted a script to the Commonwealth Caribbean Voices Project for a competition they were having.
Wiltshire was the only Guyanese selected from over 100 participants around the Caribbean. "I consider this great news for Guyana because it opened another window for the creative industry in the area of film," pointed out Roberts, adding, "It's a story about love; where love navigates hate in darkness. It's a love than cannot ripen in light."
Because the creative industry is small in Guyana, building a cast and crew can become challenging in the area of film, especially when there's a unique story to tell. "So Rae reached out to members of CeniGuyana who reached out to me because of my experience in film production where I worked not only in Guyana but Barbados and Los Angeles as well," Roberts explained about how she became involved with the film.
The character list includes an East Indian/Mixed male 16-22 years old, Afro/Mixed male 16-22 years old, East Indian/Mixed female 35-45 years old, and Afro/Mixed male age 35-45 years old.
"There is a specific structure in place because it's important to cast the right characters with the right ages for the roles so that a compelling story can be told. We hope to achieve the goal of finding all the characters that fit the roles because it's important for the visuals and emotional connection to tell the story," Roberts explained.
The team is also hoping to find actors who can connect to the emotions of the film, and good enough to be referred to for future films.
Roberts shot to fame back in 2005 with her single, 'Koc It Up' and '54321' which featured Ice under the Kotion Rythym Medley video attached to Kross Kolor Records label.
When she's not in the studio, the talented artiste is also very active in the filmmaking industry. Having always felt connected to television and the behind-the-scenes workings of music videos she has been a part of in the past, Melissa took up studying Motion Picture Arts in Barbados at the University of the West Indies.