GAVIN Mendonca and Marlon 'Chucky' Adams are all set to perform tomorrow night for the Bankra Caribbean Culture Festival to be held virtually from 16:00 hours to 21:00 hours. The duo has successfully continued to defy the odds by securing more bookings on the international music scene.
The event is being produced by Braata Productions – an organization based in New York City dedicated to preserving Caribbean culture and creating platforms for Caribbean creatives.
Gavin and Chucky have just released their first official original song together – 'Everything Gon Be Alright.' "The past year has been extremely trialling for creatives here in Guyana, especially those who had a budding touring career in progress," Gavin said this week.
The duo was scheduled to perform together outside of Guyana for the first time last April at New Fire Festival in Trinidad, but the event had to be cancelled due to the pandemic. "Undeterred and with epic resolve, we continued to hone our craft and eventually started producing our own virtual performances with the help of Azikiwe 'Ziggy' Denheart of Infinity Productions and local rapper 'A/TayJAH'," Gavin expressed.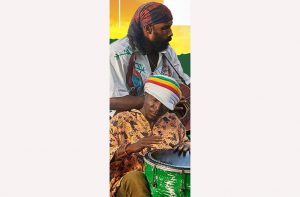 "The DIY [Do It Yourself] approach proved to be very successful as we were able to create top-class productions, even with lack of funding and financial support, as we possess superb skills and equipment to achieve the tasks at hand," he said.
The systematic release of these performances on social media proved to be fruitful as the duo began getting bookings from International Organizations. So far, they have performed online for Folk Alliance International (which Gavin attended in person in New Orleans mere weeks before the lockdowns began in 2020), Muzikstan (produced in Birmingham) and Nottingham Global Roots Festival. Gavin said he has observed that he and Chucky receive more support from the international community and non-Guyanese over local organizations and diaspora groups who always seem to want them to perform for free. "It is our belief that Guyanese need to understand how much time, energy and resources go into creatives being able to do what they do, especially at the high level and standards which we operate by. There has always been a lack of respect and appreciation for Guyanese creatives, by Guyanese, which is a very unfortunate and a sad reality," Gavin expressed.
Meanwhile, aside from writing and recording their first original album together, Gavin and Chucky are also working with Kross Kolor Records to produce 'Folk It Up Vol. 2' – a project aimed at recording all of Guyana's known folk songs to ensure they can be passed on to the next generation.
"Volume 1 was released in 2019 at the Guyana Folk Festival in New York and has received very positive reviews. We are also advocates for more local content on radio and the development of a system where artistes can be paid by radio stations to have their content played," Gavin pointed out.
He said he has just completed a course in Copyright Law and IPR through Harvard University and will be participating in an IPR Valuation Course through JIPO (Jamaica Intellectual Property Office). Gavin plans to use this new-found knowledge and qualification to contribute to better systems for the cultural and creative industries in Guyana.
To tune in to the festival live on Saturday visit Braata Productions on Facebook, or visit www.braataproductions.org