A History of the Chinese Indentured Labourers
EVEN though the planters in Guyana had expressed interest in introducing Chinese labourers since Emancipation, it was not until 1851 that such recruitment first began.
Because of the long travel distance from China, at first Chinese were not recruited since it was cheaper to transport Indians. While it cost a planter 13 British pounds to transport an Indian labourer from Calcutta or Madras, the cost was 15 pounds to transport a Chinese immigrant from any of the Chinese ports. But because of the growing need for labourers for the sugar estates, some planters decided to recruit Chinese especially during the period between 1848 and 1851 when Indian immigration was suspended. In August 1851, the British Guiana Government agreed to pay the planters a bounty of $100 for each Chinese landed in the Colony. The following month George Booker, one of the sugar estate owners, arranged for the first shipment of Chinese to work as indentured labourers. The 115 men and 39 boys who were recruited were transported from the port of Amoy on the Lord Elgin. The ship departed on July 23, 1852 and after a journey of 177 days arrived in Georgetown on January 17, 1853. On this difficult voyage 69 of the passengers died. Another ship, the Glentanner, chartered by Hyde, Hodge & Co, left Amoy with 305 men and boys and arrived in Georgetown on January 12, 1853. A total of 51 passengers died on the journey. The same Company recruited another 352 men and boys later in the year and they were shipped from Amoy on the Samuel Boddington on November 25, 1852 and arrived in Georgetown on March 4, 1853, after a voyage which lasted only 98 days during which 52 passengers died. (On this journey, the Chinese mutinied and almost managed to take control of the ship).
Most of the Chinese who arrived during this period were assigned to estates in West Demerara.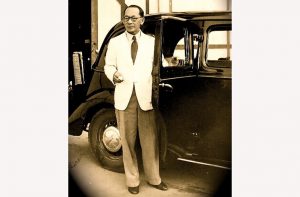 The British Guiana Government expressed concerns about the physical quality of the Chinese who were recruited and also about the large number of boys who were apparently passed off as adults. Subsequently, the Government withdrew the bounty payment to the recruiting planters on August 1, 1853.
Earlier that year, James White, who had been the recruiting agent for the British Guiana Government in India, was appointed as Emigration Agent for the British West Indies in China. However, he was dismissed in June of the following year mainly because he failed to recruit any Chinese labourer.
In 1853 also, the British Government had decided to support a government-sponsored recruitment programme, but by May 1854 the British Guiana Government decided to halt immigration from China due to the transportation costs which had increased by over 66 percent and also because of the failure to recruit women.
Resulting from the absence of Chinese women among the immigrants, many of the men established conjugal relations with African women. The "mixed" children born out of these unions were referred to as "Chinee-duglas".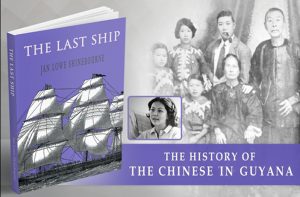 The Chinese proved to be good workers on the estates to which they were indentured for a five-year period. Subsequently, the planters influenced the Governor (Philip Wodehouse) to appeal to the British Government on their behalf to allow the transport of Chinese to Guyana through private enterprise. At first, this was not supported by the British Government, but eventually in 1857 permission was granted for recruitment for a one-year period. Towards the end of 1858 two ships overloaded with 761 passengers, collected from "baracoons", left Hong Kong for Georgetown arriving in March and May 1859 respectively. On these two ships 60 persons died on the long voyage. In 1858 the authorities in the Chinese provinces of Kwangtung and Kwangsi (served by the city of Canton) began to encourage people to migrate, and this enabled the recruiting agents to finally contract females who were part of entire families. On December 24, 1859 the Whirlwind sailed from Hong Kong with 304 men, 56 women, 7 boys (under the age of 15 years) and 4 girls (under 13 years of age). The voyage lasted 78 days and not a single life was lost.
During 1859-60 five more ships left Hong Kong and Canton for Guyana where 1549 men, 298 women, 53 boys, 26 girls and 18 infants landed.
In succeeding years ships continued to sail from the ports of Hong Kong, Canton, Amoy, Swatow, and Whampoa with Chinese immigrants who included a disproportionate amount of women. The Dartmouth which made the final voyage, sponsored by Hyde, Hodge & Co., started from Hong Kong on December 24, 1878 and after 81 days arrived in Georgetown with 515 passengers (436 men, 47 women, 18 boys, 5 girls and 9 infants). In this group were about 70 Christian converts.
For the entire period of 1853 to 1879, a total of 13,541 Chinese landed in Guyana.
(Retrieve from http://www.guyana.org/features/guyanastory/chapter55.html)
The Chinese on the Plantations
On arrival in Guyana, the Chinese immigrants agreed to the following terms of employment:
1. Payment was at the same rate as an indentured labourer – $4 a month – with sufficient food.
2. The working period would be seven and a half hours per day, except Sundays and holidays.
3. Free housing and medicines would be provided by the estate owner.
4. One dollar per month would be deducted from the wages for monetary advances made in China.
5. Every immigrant could terminate his contract at the end of a year, on payment, for each unexpired year of the contract, of a sum equal to one-fifth of the amount of the passage money.
6. Every female Chinese immigrant was required to live on the same estate with her husband, or with her father if she was single, and would not work unless she agreed.
These terms were discussed with the Chinese immigrants who signed agreements with the recruiting agents in China before they departed for Guyana.
The first batch of Chinese were assigned to Plantation Blankenberg, West Coast Demerara, and to other estates on the West Bank Demerara. Those who arrived later were distributed to other estates, including to a few in Berbice and Essequibo.
Working conditions were relatively good on most of the estates, but some Chinese labourers complained from time to time of ill-treatment.
The Chinese came from many regions and they spoke different dialects.
They also had varying skills and religious beliefs. Many of them were social outcasts picked up from the streets while others emigrated to escape misery and war. But they were concerned about maintaining their language and forms of their culture, and some of them, who had a relatively good level of education, organised night schools on the sugar plantations to teach the boys writing and singing.
A labourer who completed his contract was offered the option of renewing it, or a sum of $50 as a partial payment for a return passage to China. Very few Chinese opted to leave Guyana, but those who did so travelled on the ships that transported back to India those Indians who decided to leave Guyana on the completion of their indenture. Those Chinese who left were not only agriculturalists; some of them had worked as doctors.
There were also some Chinese immigrants who were not interested in working as sugar cane farmers because they felt the pace of work was too demanding. In May 1860 several of them left their estate (near to Georgetown) and marched to the city to protest their working conditions to James Crosby, the Immigration Agent General. At La Penitence they were stopped by mounted police who beat them with their staffs and forced them to turn back.
Those who did not want to work on the plantations had the options of buying their way out of their contract, escaping from the estates, or committing suicide. The first option was expensive since the labourers were earning only $4 a month.
There were many cases of Chinese who escaped from the estates. Many of them managed to reach Charlestown which was becoming the local "Chinatown", but they were eventually caught and imprisoned for 30 days and returned to their places of work from where they usually escaped again.
There was also an unusually high rate of suicides among Chinese men but it could not be determined if a dislike of plantation work was the cause.
The immigrants' traditional food, rice, was imported but it was very expensive. Plantains soon became a chief source of food. There were many incidents of Chinese labourers stealing plantains from farms owned by Portuguese and Africans, and those who were caught were brought before the court and punished by flogging. Later, some Chinese planted rice on small plots, but since Indians who were already cultivating rice expanded their production, the Chinese resorted to purchasing their supplies from them. The Chinese, like many Indians, used their savings to purchase land from African landowners. They were also astute businessmen and, by the 1880s, had established themselves in business, particularly in operating grocery stores in the rural villages and also in Georgetown and New Amsterdam. They also established laundries and restaurants in the two towns.
(Retrieve from http://www.guyana.org/features/guyanastory/chapter56.html)
Their Descendants By 1900 the Chinese population in British Guiana had dwindled to 2,919 since the majority of Chinese at that time preferred to marry people from their own country but there were too few Chinese women available. Many also left the colony to seek their destiny in other countries, particularly French Guiana, Surinam and Trinidad.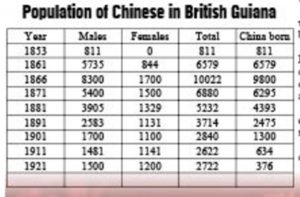 (Trev Sue A Quan, Cane Reapers, Retrieve from:http:// www.rootsweb.com)
Chinese Contributions
In the post-indentureship era, there has been considerable human, social, industrial, political and national development as Guyana advanced as a nation. The Chinese factor has been important. Some of the areas of Chinese contribution and influence are well known, while others are fairly unsung, or have remained in the margins of national consciousness. The post and extra-plantation experience of the former indentured workers, both those who completed their contracts and those who ran away from them, are very varied. Many, after leaving the estates, went into commercial activities, to the point where they developed a high reputation as shopkeepers, to the point of stereotype. But this went on to become a substantial contribution to commerce and entrepreneurship. As Chinese descendants moved into the professions, they made contributions to law and education, as well as politics. In cultural areas, contribution to cuisine has always been most famous. A major contribution has been in the world of sports. Chinese Guyanese once dominated the field of hockey, especially throughout the 1950s, 60s, 70s and up to the 1980s. They were foremost in the clubs, the national competitive leagues and overshadowed all other ethnic groups in the national hockey teams. Guyana was very well represented in those years. National teams dominated by players of Chinese descent led Guyana to Caribbean regional championships. The country spent a long time at the top of the sport in the Caribbean.
In table tennis, some of Guyana's best years in the Caribbean regional championships were those when Guyanese Chinese were prominent. Other areas included squash in which Chinese were also prominent. There is also a significant collection of writers and works in Guyanese Chinese literature, including not only writers of Chinese ancestry, but a corpus of what may be called Guyanese Chinese literature (in terms of the focus, content and preoccupations). (Retrieve from Stabroek News: The Chinese contribution to Guyanese literature) Notable Persons Arthur Raymond Chung Arthur Raymond Chung OE (10 January 1918 – 23 June 2008) was a Guyanese statesman who served as the first President of Guyana from 1970 to 1980. He was the first ethnic Chinese head of state in a non-Asian country. He was honoured with Guyana's highest national honour, the Order of Excellence (O.E.). Chung was a leader in Guyana's fight for independence during the British colonial era.
When Guyana became a republic under the leadership of Forbes Burnham in 1970, the National Assembly elected Chung as the country's first President; he took office on 17 March 1970. During his presidency, on June 27, 1972, Guyana established formal diplomatic relations with China, making Guyana the first English-speaking Caribbean country to establish diplomatic relations with the People's Republic of China. In 1977, President Chung of Guyana visited China and met with Hua Guofeng, Premier of China.(Retrieve from https://en.wikipedia.org/wiki/Arthur_Chung) Robert Victor Evan Wong Robert Victor Evan Wong (July 4, 1895 – October 19, 1952) was a politician, civil engineer, rancher and businessman, elected to the British Guiana legislature in 1926 and 1934, and appointed to its Executive Council in 1928.
He is notable for being the first Chinese-Guianese member of both the British Guiana Legislative and Executive Councils. Prevented by poor eyesight from serving in World War I, Wong returned to the Colony to serve as a civil engineer in government service, designing sea walls, bridges, roads, sluices and other infrastructure. He thereafter managed a family sugar plantation and refinery. In 1926, at age 31, Wong won election to the British Guiana Court of Policy from the Essequibo Islands. This body became the Legislative Council following a Constitutional change in 1928. As a result, Wong has been identified as the first person of East Asian descent elected to a national legislature in the Americas. His subsequent appointment to the Executive Council was also a first for a West Indian Chinese. As a legislator, Wong was a principal proponent of the introduction of personal income taxation. Wong won election to a subsequent term on the Legislative Council in 1934 under a slogan reflecting his initials: Right Vanquishes Every Wrong. Wong's business interests included Good Hope Ranch in the Rupununi Savannah, Anchor Ranch in Berbice, and interests in an abattoir, tannery and shoemaking factory. He owned a number of stone quarries, as well as oil and bauxite mining concessions. Wong promoted a government and internationally financed sustainable development project for tropical hardwood industry, cut short by World War II. Wong was co-founder and President of the Durban Race Club. (Retrieve from :https://en.wikipedia.org/wiki/Robert_Victor_Evan_Wong) O Tye Kim, also known as Wu Tai-Kam
The most well known Chinese immigrant in Guyana was O Tye Kim, also known as Wu Tai-Kam. O Tye Kim was employed by the Society for the Propagation of the Gospel, and soon after he left for England. There he established an alliance with the Church Missionary Society which decided to send him to work among the Chinese immigrants in Guyana in 1864. The Society paid his passage to Guyana and provided him with funds to meet his initial expenses.
In Guyana, he quickly won the friendship of Governor Sir Francis Hincks who supported the establishment of a church in Georgetown to minister to more than one hundred and twenty Chinese Christians. He also travelled on foot to all the sugar estates, at his own expense, to meet with Chinese immigrants, and had great success in converting the non-believers among them to Christianity. In a very short time, he established great influence among the Chinese immigrants who sought his advice and made voluntary contributions to him. Within a year of his arrival in Guyana, O Tye Kim developed a plan to resettle Chinese, who had completed their indenture, on an agricultural settlement called Hopetown on Kamuni Creek, a west bank tributary of the Demerara River. For this project he obtained the permission of the Government, and he began the settlement with 12 Chinese settlers, and by the end of 1865, under his careful supervision, Hopetown's population grew to 170 inhabitants. The settlement was largely self-sufficient, and O Tye Kim kept a tight control on its economic and social development. The settlers, in addition to producing agricultural commodities, manufactured large quantities of charcoal, the sale of which O Tye Kim organised in Georgetown.
O Tye Kim's work among the Chinese was given official recognition when the Court of Policy Guyana appointed him as a paid missionary with special responsibility to minister to the Chinese population. (Retrieve from http://www.guyana.org/features/guyanastory/chapter57.html)