Hague/Blankenburg Neighbourhood Democratic Council (NDC) which is located at Fellowship Public Road, West Coast Demerara is responsible for the upkeep of four villages. These villages are Blankenburg, Hague, Den Amstel and Fellowship and over time these communities have seen its share of development.
Hague/Blankenburg Overseer, Ceceline Crighton told the Pepperpot Magazine that in recent times, the NDC through central government has upgraded Duke Street, Hague which was in a bad shape. This took place about a month ago and a new concrete bridge was also constructed at Duke Street which replaced an aged, rotting wooden bridge.
She reported that Den Amstel village saw the upgrading of two roads, culverts, revetment works done within the village to boost the drainage system. Meanwhile, at Fellowship Village, Crighton added that at the Side Line Dam, a crush and run road replaced the mud dam.
She pointed out that drainage works are being done at Hague Back canal and a drainage pump was installed at Hague but is yet to be handed over to the community. Crighton disclosed that last year, like most people, they too were unprepared for COVID-19 and things were a bit slow but this year they are in a better position.
She stated that things are gaining momentum and they plan to open up the roads in Den Amstel for residents to get access to the farmlands so enhancement works will commence clearing overgrown weeds and bushes on existing roads, in that village.
Crighton added that two tubings were installed last year to upgrade the existing drainage system in the village. In addition, the NDC Overseer stated that the Hague Cemetery Road was upgraded and solar panels lights were installed in these four communities to improve security at nights.
Crighton reported that this year, more solar panel lights will be installed in Blankenburg, Hague, Fellowship and Den Amstel. She disclosed that recently people have been paying their rates and taxes on residential properties and the few businesses have not been delinquent either so that's an improvement from last year.
Crighton added that they are receiving the support from Central Government for most developmental works in the four villages they are responsible for and such will continue as time progress. The Hague/Blankenburg NDC and the people have good relations and they are working collectively to boost development within the villages.
Crighton stated that more roads, internal streets will be upgraded and drains, canals, parapets and infrastructure will be maintained through the NDC and central government and by extension the ministry. She added that once resources are available they will continue to foster development at the community level.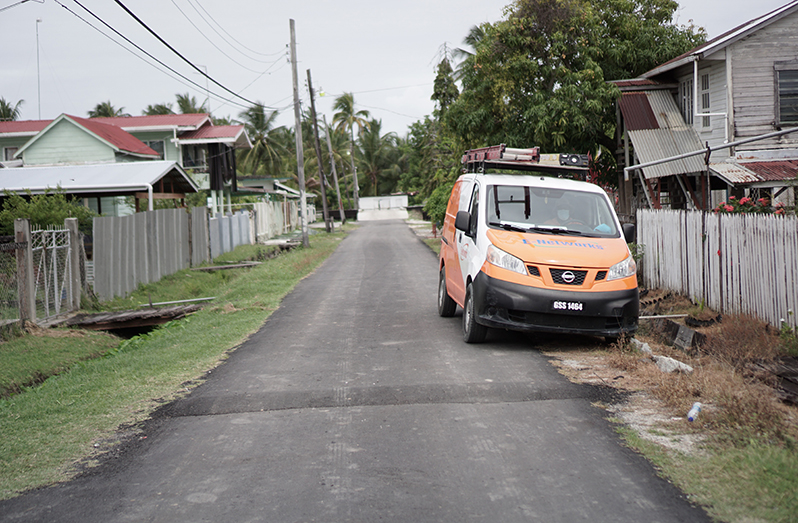 The Hague/Blankenburg NDC building was renovated and conveniently sits on the turn at Fellowship Village, Public Road. Crighton and team also conduct community visits to ensure developmental works are taking shape and completed according to specifications and also listen to the concerns of the residents under that NDC.