AS a young woman in Guyana, many traditional stereotypes and roles are expected of me. I am not a poster child of decorous. Of course, that is often met with disgust at the tongues of traditional thinkers. I grew up in rural Berbice. The majority of my childhood friends are preparing themselves for marriage—if they aren't already married. There's nothing wrong with that, but when you're forced or coerced to only fit the title of becoming a man's wife (nothing more, nothing less) for the rest of your life, then it's a problem for me. Being a "housewife" in Guyana has its unwritten rules and meanings and we're so used to this being the "norm", many Guyanese women end up believing this is the one and only option available for them.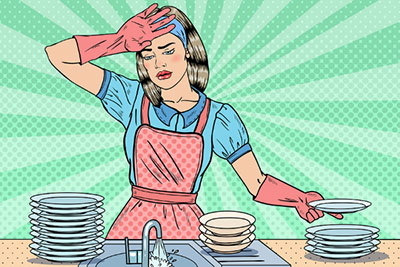 From cleaning the house, cooking the food, doing the laundry, birthing children and caring for them and the elderly; their hands are tied. Girls are usually groomed and moulded from a young age to perfect these tasks. While some women are faced with subtle jokes and jabs, others are faced with harsh, abusive undertones, or even abuse itself. In Guyana, there's the popular "round roti" joke, but when you observe this from a professional standpoint, it adds to an existing issue our women are faced with every day. Some women are laughed at or humiliated but for others, their spouses will abuse them simply for not completing certain chores.
While we're speaking about chores, let's add "sexual chores" to the mix. After a long, hard day in the house, completing the chores and taking care of the children, she then has to perform her sexual obligations for her husband. In this modern era, more and more women are going out into the world of work. Often, this does not exclude these women from their "traditional" roles. They have to work and also take care of the house. You'd find that many of these working women are under a lot of pressure because they have to wake up at least three hours before their working hours to get these tasks done. By the time it's time for work, the food is cooked and the house is cleaned, but that woman is also exhausted to her core before her day even begins.
All in all, I understand that not every Guyanese will have this mindset about housewives and not every housewife is treated in this manner. Nonetheless, we still cannot deny the fact that there are still women in our country who are stuck in situations like this—all in the name of "tradition." I am not writing this article to exclude women from household responsibilities. Rather, I hope that husbands, partners, friends, families and the entire Guyanese society realise the social and physical pressure housewives are faced with. We can take the first step to help them by sharing the labour load around the house. Housewives should not be subjected to servitude. They are not only our mothers, sisters, daughters and wives—they are so much more. Give them the break they deserve already.