…Charrandass Bhojedat gets candid about his COVID-19 fears
WHEN the novel coronavirus struck Guyana one year ago, Charrandass Bhojedat was a participant of the Emergency Nursing Residency Programme being executed by the Georgetown Public Hospital Corporation (GPHC).
On March 10, 2020, Bhojedat was working in the hospital's Accident and Emergency (A&E) Unit; it was an ordinary day, attending to patients displaying symptoms of everyday illnesses. Among them was Ratna Baboolall, who was being treated for uncontrolled diabetes and hypertension.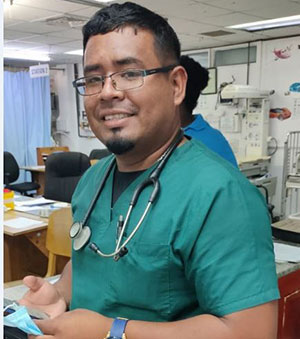 Despite doctors' efforts, the 52-year-old woman died the following day, while being treated. Based on the fact that she had just travelled to Guyana from the United States, authorities sought to conduct relevant tests which would later confirm that she was infected with the coronavirus.
At that time, Guyana was in the height of a bitter feud over the March 2 General and Regional Elections. As a result, the news that COVID-19 had descended upon us was met with much denial; many viewed the positive results as being a gimmick to distract the country from attempts to alter the vote count. Health officials, however, knew better, and so, profound fears and concerns permeated GPHC's staff complement, particularly the doctors and nurses who attended to Baboolall.
Although he did not come into direct contact with the infected woman, Bhojedat was almost ready to quit and begin efforts to protect his family. His biggest fear at that time was being the link between the deadly virus and his family, particularly his wife and two children. This, Bhojedat recalled, was enough for him to want to throw in the towel and give up on his journey to becoming a fully qualified health worker. He had always dreamed of helping the sick, but without risking the lives of those he held dearest.
"Eventually, with support from the department heads and family, I manage to complete the training," Bhojedat said, emphasising the critically supportive role that his wife played during that period.
The 32-year-old 'Medex' explained that he particularly struggled with completing the programme while trying to maintain his role of being a good, attentive father to his two young children – ages two and eight.
"When you go home, the first thing they [the children] want to do is jump up on you and hug you up," Bhojedat noted. While he would usually anticipate going home to experience these heartening moments, COVID-19 had made such engagements worrisome; there were always fears that despite all precautions, minute traces of the virus would be transmitted to his loved ones.
After patient zero, Bhojedat adopted a strict routine that consisted of constant hand washing and sanitising; his mask became almost glued to his face while he was outside of his home.
"When I get home, I change and I shower outside and so before I go into the house," the Medex related.
INFECTED AND REINFECTED
Even with all the defences, Bhojedat was not spared; he would soon become infected with the feared COVID-19. The Mahaicony, East Coast Demerara resident said that he had been working on a final year project for the residency programme when one of his colleagues in the small study group tested positive for the virus in September 2020.
"Even though I didn't have any severe signs or symptoms, except sore throat, I decided to do the test which turned out positive," Bhojedat said. He immediately went into home isolation, confining himself to a self-contained room for a period of two full weeks.
"I also drank lots of fever grass tea, ginger tea and vitamin C supplements," the Medex noted.
He said that his family spared nothing to ensure that he was well taken care of, and handed all the supplies that he would need to remain isolated.
"The hardest thing to do was staying away from my family, especially my kids…It was quite depressing," Bhojedat indicated.
After the two-week period, the healthcare worker was ecstatic to have recovered. He was able to hug his children in the couple weeks that followed, but soon enough, he would suffer a relapse.
"About a month after I recovered, I started with loss of smell, loss of taste, fever and then shortness of breath," Bhojedat reflected. He went back into isolation, and with the help of his wife, was nursed back to health. Bhojedat would then come to realise the severity of the coronavirus, and the importance of his role in joining his colleagues in the fight to eliminate the disease.
Amid very serious threats of contracting the virus a third time, Bhojedat returned to the fields and assumed battle position alongside his colleagues in the medical profession. Bhojedat would be stationed at the seaports where he is tasked with inspecting and assessing passengers disembarking in Guyana.
"So far, we have not had any persons coming into Guyana with symptoms," a contented Bhojedat indicated. In reflecting on his journey throughout 2020 and all the things that he and his family had to endure as a result of COVID-19, Bhojedat said that he was happy to have overcome his fears and be able to serve his country and his people. The young father related that even with his initial skepticism, he would not hesitate to do it all over again.
"I wouldn't back down if I had a choice," the healthcare worker said.
The Medex, who has been in the field for almost 11 years, is just one of the millions of health workers across the world who have, over the past year, been risking their lives and those of their loved ones to care for persons infected with the coronavirus.
Bhojedat lamented the fact that medical professionals are often times underappreciated for the many sacrifices they consciously choose to make to ensure the health of the nation is safeguarded.
"I just wish the public would value the frontline and healthcare workers and show them a little more respect, because, every day at the hospital, we still does get cuss out; they don't know of the sacrifices that we does put into actually coming to work to provide the assistance," Bhojedat posited.
Bhojedat reiterated that even with all the challenges, he has no regrets, and remains committed to the continued fight to ensure the eventual elimination of the coronavirus.