THE closure of borders might constrain your ability to travel to Paris, the world renowned French City of Love, if of course a near-empty wallet didn't prevent that first, but, Movietowne Guyana is bringing Paris to you from February 1 to 14.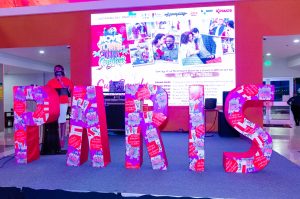 For two weeks, love birds could 'flutter' by the Turkeyen mall, where an edifice of the Eiffel Tower is the first sight you are greeted with, just as you enter into the office. As you and your significant other walk around the international monument of love, at least, a miniature version of it, you will observe cute things to do together including caricature portraits, personal portraits, couple's hand casting and temporary tattoos.
But, all those couples' activities wouldn't be complete without something to eat, of course, since it is well-known that the way to someone's heart is through their 'stomach.' There will also be special wine and cheesecake on sale, and special violin performances to provide the right ambience.
So, there's no reason not to take that trip to Paris this year around. You might as well do it while it's this affordable.