MINISTER of Local Government and Regional Development, Nigel Dharamlall, has charged that Georgetown Mayor, Ubraj Narine, lacks leadership skills and therefore needs to resign, but the Mayor, on the other hand, launched a diatribe against the minister. The Mayor went live on his Facebook page on Friday to complain about remarks Dharamlall made in another section of the media, and among other things, accused him of lacking knowledge on how the local government systems work. "I respect you, but your IQ is not there. You have a way of myopic thinking and that would not really play out, especially with me as mayor of Georgetown. Not me," Narine said.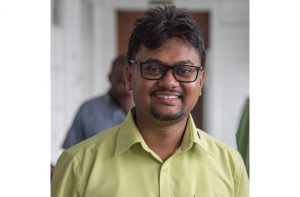 Minister Dharamlall, in an invited comment, told the Sunday Chronicle that the Mayor does not have a clear understanding of what his roles are and where his legal mandate ends. "And it is through his incompetence that Georgetown is deteriorating. I will arrange a training session for all mayors and councillors for them to better understand their roles and responsibilities," Dharamlall said, adding: "It is a pity that the Mayor of the capital city is focussed on making live Facebook videos rather than going out to get a grip of the concerns of citizens; total lack of leadership by Ubraj. He should resign as mayor and allow more competent people to lead the city."
According to Mayor Narine, Dharamlall told the press that between 2016 and 2019, the City Council raised over $12.7B but that it remains unclear where those funds are kept. The Mayor said the government owes the City Council over $1B. "This is not now. I called even on the Coalition to pay up their rates and taxes," he noted, adding that the outstanding monies are split among the Guyana Police Force, Guyana Power and Light, and other government agencies. Mayor Narine said he asked Auditor General, Deodat Sharma, on August 21, 2020, to conduct an audit of City Hall but he has not received a response from him to date.
"They does play underhand business. I am not arrogant and full of ignorance… I will use wisdom. I'm a man of God and I will use my spiritual knowledge to guide me," the Mayor said.
Meanwhile, Dharamlall told the Department of Public Information (DPI) recently that he is aware of many financial and procurement transgressions that have occurred at City Hall over the last year. He had noted that discussions with City Treasurer, John Douglas, revealed alarming findings, including that the council spent about $120M on staffing, and employed 707 persons, including over 250 pensioners. The minister said it is clear that the government cannot wait on the City Council to improve Georgetown, and to this end, it has partnered with various ministries to conduct infrastructural works targetting roads, bridges, canals, markets and other infrastructure.