For many, the phrase "true creativity lives within " is just a proverb, however, Sadia Vasquez, a 22-year-old woman, who described herself as someone with gentle visions for life, bears testament as the evolution of her artwork is an example of why the phrase should never be overlooked.
"I'm an immigrant. I'm a woman that asks herself so many questions. I can't really express who I am because I'm constantly discovering myself. There are no differences between Sadia Vasquez and the artist. I don't usually describe myself as an artist but a person with the necessity to express through art," she articulated.
The Buzz caught up with the self-taught Artist, who expressed that for years, her art has served as a safe space. She further noted that her love for art was born from the necessity of expressing one's self.
"While I have a passion for writing I can't help but create something that will completely capture and tell my emotions. I think about how essential our photographic memory is. For example, If you see an image of a burning house, you see it as it is. There's no room for misunderstanding. As opposed to when you read a poem, there's room for interpretations. While I want to impact the visual aspects, I want the viewers to see with more than just their eyes," Vasquez said.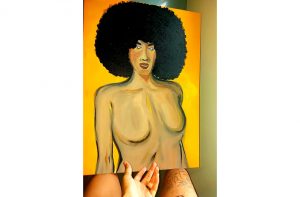 When asked about what inspires her, Sadia expressed, "If I'd named any famous artist, I'd be lying. The people that fight for their country, teachers, my neighbours, friends and family truly inspire me to create art. The entire creation, the sky, deserts, the ocean inspires me. The things I see inspire me to see beyond my very own eyes. If you want to ask me why? Think about a person that is sitting next to you in the bus and is crying. We don't know where they're going but we can see so many things if only we see beyond things. A Simple gesture inspires me," she explained.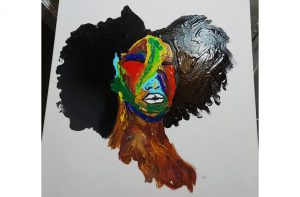 Additionally, when asked about where, she envisions her artistic career in the future, Sadia conveyed, " I'd really love to be truthful. I wouldn't consider it my top being able to share my artwork in the most famous art gallery but instead to reach at least one person with my art. If I can have at least one person see and feel any of my artworks this would be fulfilling for me.
I'd want to continue to explore new techniques and even create my very own. I'm afraid I don't see this as a career because we're talking about what I consider my safe space. I simply want to be vulnerable and share my emotions through art."
Conversely the young artist, also noted that it is her desire for the government in the coming years, to create more opportunities for local artists to display their artwork on an international level In advising up and coming young artists, Sadia implored them to express themselves, even when there is a lack of self-belief; show everyone who you are, embrace yourself, be vulnerable and free.
In her final remarks, Sadia referenced her daily mantra that aids in keeping her creative space an active one. "Be sure to use beyond your eyes to see. It is said that eyes see eyes but, if I can ask one thing, go beyond,"she said. "I know we're all capable. Remember art doesn't have a flag, face, race or even a nationality. Art is art. Experience art, feel it".