By Rehana Ahamad
AMONG the many incredible things that Guyana is known for is its vast species of birds. More specifically, Guyana is home to more than 250 species of birds, including the endangered Red Siskin (Spinus cucullatus).
Over the past years, various bird species have decreased tremendously. This worrisome situation has been compounded by Guyana's 'caged birds' tradition, which continues in various parts of the country as both a business and a hobby.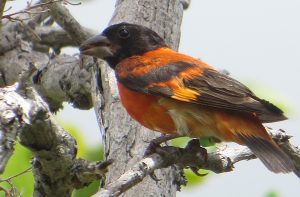 In an effort to reverse the decline of the Red Siskin, a group of 'friends' got together and formed the South Rupununi Conservation Society (SRCS), the Executive Committee of which comprises its president, Leroy Ignacio; vice president, Angelbert Johnny; Treasurer, Erin Earl; Secretary, Kimmy Spencer; Assistant Secretary/Treasurer, Eian Gray; and Programme Coordinator, Neal Millar.
During an interview with this publication, Millar explained that before confirmation, there were 10 proposed Important Bird and Biodiversity Area (IBA) in Guyana. He said that the majority of the IBAs, especially for the Rupununi, were first proposed by the Guyana Amazon Tropical Birds Society.
"IBAs have different criteria to be confirmed. For example, for endangered birds, you need 25 pairs to be confirmed as existing within that proposed IBA. The SRCS received funding to monitor the population of the Red Siskin, which was the bird that caused South Central Rupununi to be proposed as an IBA," Millar said.
He noted that through monitoring, more than 25 pairs of the Red Siskin were identified, and the observations were from an organization, Birdlife International, which is the authority for confirming IBAs.
"Once they validated this data with their scientific team, South Central Rupununi was confirmed as the first IBA in Guyana," Millar noted.
He said that the confirmation of South Central as an IBA gives it international recognition. This means that scientists, researchers and tourists from around the world would now be encouraged to visit for their various conservation-related reasons.
"Also, as the IBA is confirmed, it can now lead to the area gaining formal protection as it is confirmed that a critical number of Red Siskins exist there. This formal protection will be done by the local communities and facilitated by SRCS. This status also gives the organisation the authority to create rules and propose regulations that will further add to the protection efforts of the Red Siskin.
"SRCS trains rangers from the local communities, found within the IBA, to monitor the Red Siskin population and be alert for instances of trapping and habitat destruction. The rangers also monitor other threatened species and assess what is happening to their local populations," Millar said.
Meanwhile, president of the SRCS, Leroy Ignacio, is hoping to assist other groups across Guyana that are still working to establish their own biodiversity areas as a means of securing the future of several other species.
"We would love to see the remaining IBAs be confirmed and also many other areas in Guyana. Now that we have helped to confirm South Central Rupununi, we would like to assist other NGOs and communities to confirm these IBAs," Ignacio said.