The keys to a successful business
MORA Point at Mahaicony Creek was a rather remote and deprived community when Ghanshayan Sukhoo was growing up and to think that he'd benefit from a secondary education and more so, "become somebody" in life, was hardly imaginable.
Perhaps it was because of the stance his and many other parents took; that once the child received a certain amount of primary education, then it's time to join hands in the rice farming or cattle-rearing businesses.
But Ghanshayan's teacher saw his abilities and encouraged his mom to let him continue in school. The father wouldn't hear of it though, so his mother brought him out to stay with a relative in Enmore, East Coast Demerara where, unknown to his father, he had the opportunity to attend secondary school.
That would be the start of a successful life for Ghanshayan who would eventually press on to becoming one of the most qualified persons in the electrical, machinery and automation fields. "In school, I loved Maths and Accounts, and I always felt to myself that I had what it takes to become somebody in life."
In fact, Ghanshayan's business, 'Sukhoo Electrical, Elevator and Escalator Services' might be the only local company in the field of repairing elevators and escalators, apart from the Chinese and other foreigners.
'Sukhoo's' also supplies and installs some of the world's best elevators like the Otis GeN2 Elevator and China's No.1 Elevator, Canny Elevator.
At just 34 years old, Ghanshayan is the owner of the thriving business that works with top-notch clients like ExxonMobil, Teleperformance, Emerge, Ministry of Foreign Affairs and several other renowned organizations.
Some of the services his company provides are electrical installation, solar-powered system installation, automatic gate and garage door installation, generator repair and installation and security alarm systems.
It's the Dedication
One of the major stepping stones in Ghanshayan's life came as a result of the free apprenticeship programme that the Guyana Sugar Corporation (GUYSUCO) offered him in which he trained for four years at Port Mourant.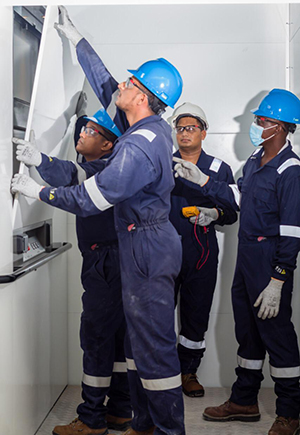 He endured strict and rigorous training and emerged at the top with the 'Watson' award and distinctions in Electrical Installation, Auto Electrical and Instrument Repair Mechanics (Instrumentation).
After serving GUYSUCO for two years, Ghanshayan joined the National Frequency Management Unit in 2007, while he also worked part-time on the weekends. While there, he was afforded the opportunity to pursue a diploma in Telecommunications in Washington and another crash course in Trinidad.
Still feeling that he and his family were living from paycheck to paycheck, Ghanshayan was still examining his options. At the same time, one of his clients' elevators shut down and no one could fix it, thus providing another stepping stone for him.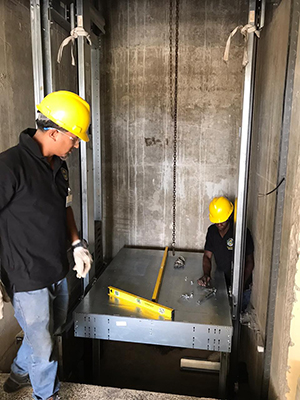 "My friend at Regency Hotel asked me if I wanted to give it a try and I told him I had never done elevators in my life but I would give it a try. It took me seven days and nights to get it back up. I said to myself this is a good business for me because there was no one locally in the elevator business except for foreigners. After then, I didn't have to advertise as it was recommendation after recommendation."
He left his job and opened his own business. First, it was an electrical business and then he made it to include elevator/escalator.
"It's the dedication; you have to be disciplined. I spent hours day and night to self-study as I believe people don't teach you everything."
Ghanshayan's team has been trained in both technical and occupational health and safety areas and has worked with several large organizations. "With each completed project, we strive to impart excellent quality, reliability, and certainty of execution, as well as impeccable guarantee and warranty support," he said.