TO culminate activities for Cancer Awareness Month, the 'Cancer Warriors' organisation hosted a "Drive-for-a-Cure" motorcade on Saturday, aimed at showing support for survivors and victims of the disease.
In the past, the event was held in the form of a 'walk', but due to the COVID-19 pandemic, the organisers decided to do it in the form of a motorcade this year.
The event saw a line of vehicles, decorated with pink ribbons, balloons and signs converge around central Georgetown in the early hours of the day on Saturday. It started at the Waterloo Street
end of the Parade Ground, and culminated quite on the other side of the field on Burnham Court, which is closer to Middle and Carmichael Streets, in downtown Georgetown.
"We always want to bring awareness to cancer. And not just that; we want to stand in solidarity with all the Guyanese who have had a battle with the disease. And this year is no different; we are going to stand in solidarity with them. Because of the COVID-19 virus, we have had to take a different approach, and we decided to do a motorcade. So persons were invited to be a part; with their vehicles, their cars, motorbikes, and cycles, so that we observe the COVID-19 preventative guidelines," Monette Harry, one of the organisers told the Sunday Chronicle.
She said "awareness is important", since it saves lives. According to her, when persons become more aware of what cancer is and how it operates, then they are able to take the necessary steps to protect themselves.
According to information released by the Ministry of Health in 2017, cancer is the third leading cause of death in Guyana. It was reported that there is a mortality rate of 21.0 per every 100,000 persons.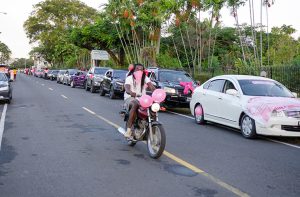 In a recent interview with this publication, the Minister of Health had disclosed some of the plans that are in train to help control cancer and other chronic diseases.
He said that the key areas in need of improvement include screening capabilities, with a focus on pathology, in order to classify the various cancers and their stages, as well as laboratory capabilities and the type and quality of treatment being offered (such as radiotherapy and chemotherapy). Of course, greater focus has to be placed on preventive measures.
Dr. Anthony added that while the foregoing measures can be introduced and programmes developed, human resource capacity remains imperative. He related that there are not many persons trained in the field of oncology (the study of cancer).
He said, too, that the need for an improved cancer registry, data collection and analysis, and then making this data publicly available have been an enduring bugbear for Guyana. Data is not only used for public information and record-keeping, but it allows for trends to be studied among other things, thereby allowing for evidence-based medical interventions.
Cognisant of all of these areas where improvements can be made, Dr. Anthony said, "This is definitely one of the priority areas for the Ministry, and over the next couple of years, we will have to build out a more comprehensive cancer care programme."