–Min. Waldrond declares it 'a bold move'
BULKAN Timber Works Incorporated and sister company, Superior Shingles and Wood Products Incorporated, on Saturday opened a showroom in Georgetown to allow customers easier access to their products, which are produced at its Yarrowkabra Soesdyke-Linden Highway location.
The showroom, located on Smyth Street, Werk-en-Rust, is a huge investment amidst the deadly coronavirus pandemic which has severely affected businesses here in Guyana and across the world.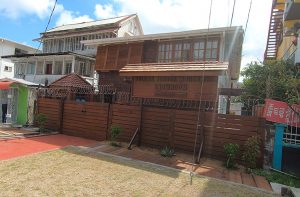 Minister of Tourism, Industry and Commerce, Oneidge Walrond during her address at the opening lauded the Bulkan Group of Companies' boldness to launch the showroom during the pandemic, but emphasised that although the situation poses a grave threat, the country must move forward.
"Business must go on, while paying close attention to health guidelines and safety protocols; investment, therefore, must not come to a halt. And at the level of the government, we will continue to provide that enabling environment that fosters business confidence; we will use every opportunity to signal local and international investors that Guyana is open for business," Minister Waldrond said.
The minister spoke of Bulkan's record of employing mainly Guyanese to work at their companies, and their commitment to innovation and a higher quality of product.
"Companies such as yours offer an extremely important element, which is your capacity to support upstream business. I am indeed heartened by the quality of your products; it is a vivid reminder of the versatility and quality of wood, a resource that is readily available to us in Guyana," Minister Waldron said.
She also used the occasion to disclose that the government intends to see to it that manufacturing costs are lowered, in a bid to make the manufacturing sector even more competitive.
This lowering of costs, she explained, will be facilitated through the government's plan to reduce the consumption cost on electricity. And while on the subject of electricity, she stressed that the government is not just committed to providing cheaper electricity, but a more consistent supply of it as well.
The minister noted that many local companies have been producing at exceptionally high standards, and it is the intention of government to work along with them to attain international standards.
"This will bring greater predictability to the manufacturing sector, and will have a positive correlation on the ease of doing business in Guyana," Minister Walrond noted.
She reminded her audience that members of the private sector have a pivotal role to play in the advancement of the country's economy, as well as providing employment.
Meanwhile, Natural Resources Minister, Vickram Bharrat, who echoed similar sentiments, spoke extensively about the government's plans to lower the cost of electricity, at least by 2024
"I would like to assure our Guyanese brothers and sisters that in less than five years, power generation in Guyana would be at a manageable level that would boost business activity," Minister Bharrat said, adding that the government has embarked on several transformational projects that will reshape the economy and bring tremendous benefits to the country.
Managing Director and CEO of Bulkan Timberworks, Harold Bulkan explained that the purpose of having the showroom in the capital city is so as to allow more Guyanese access to the products that are offered by the company. He said that while 95% of their products are exported, they would also like to give Guyanese an opportunity to access them as well.