– President Ali calls for greater access to financing for developing countries
THE novel coronavirus (COVID-19) pandemic has threatened the fight against climate change by diverting the world's attention from environmental dangers, but President, Dr. Irfaan Ali, believes that there could be an integrated response once those issues are placed at the centre of advancement of the Sustainable Development Goals (SDGs).
The COVID-19 pandemic is having an increasingly serious impact on all countries and has exposed underlying vulnerabilities of health and social systems and the fragility of economies, especially among developing countries.
All countries have been affected by economic stagnation and diversion of resources to fund health-related economic stimuli. It is also recognised that both climate change and COVID-19 can impact progress towards the SDGs.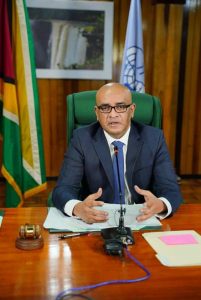 It is for this reason that there must be a commitment to affirmative action on climate change rather than a lowering of ambition. Against this backdrop, financing for mitigation and adaptation to climate change is more critical today than ever before.
President Ali, in his capacity as Chairman of the Group 77 and China, made a call for such financing during his address to member states at a virtual Climate Change Conference hosted by Guyana, on Thursday.
The summit of more than 130 developing countries sought to raise awareness, build partnerships and share knowledge on climate actions amid the pandemic, while soldiering on towards the 2030 Agenda for Sustainable Development.
The meeting was held under the theme "maintaining a low carbon development path towards the 2030 agenda in the era of COVID-19."
Adaptation to climate change is of vital importance and a key component for the implementation of the Paris Agreement for developing countries within G-77 and China, said President Ali, noting, adequate capacity building, financial support, and technology transfer are critical.
"As chairman of the Group of 77 and China, I call for greater access to climate financing for developing countries. Many developing countries, due to high indebtedness, are constrained in their efforts to generate sufficient resources towards achieving the '2030 Agenda.'
"I call on the international financial community to explore and implement ways where debt can be reduced so as to allow developing countries the fiscal space to achieve the SDGs," said the President.
APPEAL
He also called on the international community to provide greater financing to meet the 2030 agenda on sustainable development, particularly in a post-COVID-19 era.
For many of the United Nations (UN) member states, the pandemic has adversely affected the achievement of the SDGs and threatens the successes gained in SDG milestones. Resources allocated for climate action and advancing progress for the achievement of the SDGs have been redirected to combatting COVID-19.
"The interrelation of current pandemic and sustainable development goals is a source of concern for all, since the pandemic is depleting our financial and human capital assets.
"Our strategies to combat the impact of COVID-19 pandemic have forced countries to increase their internal and external debts. This is likely to lead to negative growth and exacerbate poverty," said President Ali, adding that countries must not allow their gains in sustainable development to be eroded by the pandemic.
It is for this reason that Guyana supports calls for placing the SDGs at the centre of the pandemic recovery efforts.
"I make the call here today for an integrated response to the threat posed by the pandemic, the climate crisis and the adverse effects of these on the sustainable development goals. As I have pointed out, the pandemic is diverting attention and resources from climate action and the SDGs, even as climate change is undermining the SDGs," said President Ali.
Climate change is seen as another potent threat to sustainable development. The devastating effects of climate change are real. Extreme weather events and other natural disasters have adversely impacted the global environment, economies and societies, including the reversal of development gains.
In light of this, President Ali said climate change must be placed properly in the context of the discourse on sustainable development. He called for the G77 to consider the impact of climate change and COVID-19 on issues such as poverty eradication and economic and social development.
His view is that poverty alleviation programmes should be actively funded so as to protect the natural environment.
HUGE IMPACT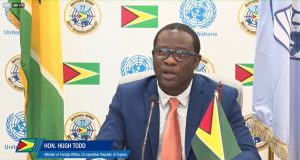 Speaking specifically on the impact of COVID-19 on global economies, Vice-President, Bharrat Jagdeo said the pandemic has forced half a billion people into unemployment, billions into "absolute" poverty and hundreds of millions are facing starvation – an impact that will likely exceed US$100 trillion.
Jagdeo told global leaders that the economic strains caused by COVID-19 may be used as an excuse to weaken ambition, relative to target for decarbonising economies, and weaken financing.
"We are extremely worried now because of COVID-19 and because of its widespread impact… the fear is that because of the impact on the economy, this will be used as an excuse to weaken ambition and weaken financing," said Jagdeo.
Many countries, particularly in the developed world, used the pandemic as an excuse not to raise ambition, nor to raise the financing or meet the pledges that they had already made.
Jagdeo was clear that, notwithstanding COVID-19 and its economic impacts, countries must not lose sight of the importance of climate change action.
Jagdeo also called attention to the fact that several agencies, including the World Bank, are sitting on funds that could be made available to countries.
"Where there are pools of resources at various institutions that are intermediating climate funds, they are just sitting for too long on these resources. There has to be a speeding up of these resources to be intermediated to the countries, particularly countries with limited capability," he said, adding: "countries in need of financing for adaptation and another climate change-related action are reduced fiscal capacity and debt burdens caused by a need for diversion of resources to respond to COVID-19."
The Vice-President said financing is needed now, and it will take the solidarity of the group and bigger countries to help access such financing.
Minister of Foreign Affairs and International Cooperation, Hugh Todd, who chaired the meeting, said: "COVID-19, even as it threatens, it also teaches. The link between health and sustainability has been sharply underlined, and we are learning by force of necessity, that much more can be delivered even today with a smaller carbon footprint."
Minister Todd said countries must overcome this menace if they are to achieve the SDGs and rise to the promise of the Paris Agreement.
He added that the Group of 77 and China has significantly reduced the carbon footprint associated with its meetings during 2020.
Guyana hopes that the G77 and China will contribute thought and action to a healthier and more sustainable world, keeping the existential threat posed by climate change at the centre of global attention.