By Tamica Garnett
A NUMBER of blackboards which were set up in several underprivileged communities in the city, have already piqued the interest of several students, who have copied the work and are looking forward to seeing what other school work will be placed on the board as the days go by.
The chalkboards were set up on Saturday at locations in East Ruimveldt, Albouystown, Rasville and Wortmanville, during visits from an education team led by Chief Education Officer, Dr. Marcel Hutson.
"I like the blackboard because it has work that I can do," nine-year-old Roshana Pickett told the Guyana Chronicle, as she copied work from one of the boards set up outside of the Assembly of God Church on Durban Street.
The aspiring school teacher said she is looking forward to seeing more Mathematics and Science work placed on the board, as Mathematics is her favourite subject and Science is the subject she has the most difficulty with.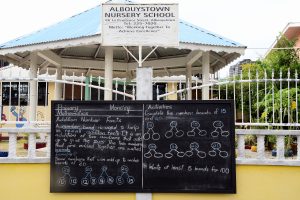 Learning materials were also distributed to the children during the visits. Dr Hutson was accompanied by District Education Officer, Deborah Hutson; Technical Facilitator, Kerwyn Jacob; School Inspector Lisa Ryce and teachers Leanchor Rowland and Caren Charles.
The chalkboard initiative is an adoption of a project that started a few weeks ago in Jamaica by school teacher, Taneka McKoy Phipp, as a means of assisting students as they continue to navigate getting an education during the closure of schools due to the COVID-19 pandemic.
Schools in Guyana have been closed since March, with learners currently being engaged virtually via a number of media and through the distribution of learning material to learners without access.
"It's best they do work than to be lingering and playing," commented Izetta Rogers, a mother of three who lives across the street from the chalkboard set up on Durban Street.
She said her children were excited to copy the work from the board even though it was not for their grade level.
Also excited about copying work from the blackboard was 11-year-old Nicholas Martin from Ketley Primary School who is currently preparing to write the 2021 National Grade Six Assessment (NGSA), and is very serious about his education as he is looking forward to running the country one day.
"I want to be the President to make Guyana better," Martin shared with this newspaper.
Many of the children shared that they are eagerly awaiting the moment when the schools can reopen. They would prefer to be back in their classrooms, and have face-to-face teaching with the teachers.
"We need to go back to the school because sometimes you need the teachers to help you to understand better," shared Maison, who said that she does encounter a lot of distractions at home.
Maison is a Grade Eight student who attends the Tutorial High School.