…says President Ali
-Gunraj says GECOM not in a state of readiness
By Navendra Seoraj
GUYANA'S elections machinery, the Guyana Elections Commission (GECOM), will have to be 'fixed' before Local Government Elections are held, said President Irfaan Ali.
Those elections are due next year, and while President Ali said he will not override anyone's right to vote, he believes that the commission lost public trust due to the events that followed the March 2, General and Regional Elections, which ended on August 2, 2020. The protracted electoral process had "raised eyebrows" not just in Guyana, but internationally.
"I will not override anyone's right to vote…I have received letters from many stakeholders and they have told me that they do not want to go back to a process that they went through in those five months.
"That is the general consensus in this population and that is of uttermost importance in the minds of our people, and that is what we have to address and the commission has to address this also," said President Ali in response to questions from the media at the Arthur Chung Conference Centre, on Monday.
Rebuilding trust in the elections machinery will be no easy task, but President Ali said it must be done.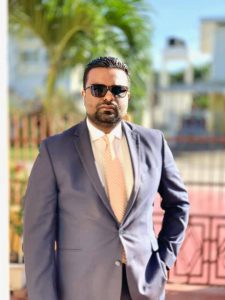 In further expressing his view, the President noted: "I am not getting into Local Government Elections now….what we have to do is fix what is there first to ensure we have a system that is working, a system that we can trust, a system that is professional, and a system that operates in an unbiased manner, so that the people of our country can have confidence."
The President was clear that he is not saying no to Local Government Elections, but is merely acknowledging and highlighting the need to fix the electoral machinery.
President Ali had committed to reviewing the events related to the protracted electoral process and launching an international Commission of Inquiry (CoI) to probe the weaknesses of the elections body.
The CoI is expected to help in identifying issues, challenges, weakness, opportunities and threats related to the electoral system and the machinery.
When asked about the status of the potential CoI, President Ali said: "We have not named anyone as yet…there are many issues going on simultaneously in relation to the elections commission, so that team has not yet been identified…we have not named that team, but I have been engaging various international stakeholders.
"I would like it (CoI) to happen quickly…the COVID-19 pandemic also (forced) some restrictions on international stakeholders, but I am in constant dialogue with them."
GECOM NOT READY
Outside of the impending review of GECOM and other matters involving the elections machinery, People's Progressive Party/Civic (PPP/C)-appointed GECOM Commissioner, Sase Gunraj said the commission is not in a state of readiness for Local Government Elections.
The commissioner said there are several issues which need to be addressed in order for GECOM to be in a state of readiness, and those include reviewing the voters' list, completing the issuance of new identification cards (IDs), among other things.
"There are also matters of public notarising…plus a lot of shenanigans went on recently, and seven officers with responsibility for operationalising, maintaining and supervising the machinery have been charged," Gunraj told the Guyana Chronicle on Monday during an interview.
Those who have been charged with offences relating to electoral fraud and misconduct in public office are: Chairperson of the People's National Congress Reform (PNCR), Volda Lawrence; Opposition activist, Carol Joseph; Deputy Chief Elections Officer, Roxanne Myers and Chief Elections Officer (CEO) of the Guyana Elections Commission (GECOM), Keith Lowenfield, along with his clerks, Michelle Miller, Denise Bob-Cummings, Returning Officer for Region Four, Clairmont Mingo, GECOM Elections Officer, Shefern February and Information Technology Officer, Enrique Livan.
They are all accused of inflating the results of Region Four – Guyana's largest voting district – to give the APNU+AFC Coalition a majority win at the March 2 polls when in fact, the PPP/C had won by 15,000 more votes.
"As a consequence, it is my hope that all of those things will have to be taken care of before any election is called…it is also my hope that these things are done in a timely manner," said Gunraj.
The commission, he said, has met every Tuesday during this month, but the main issues being dealt with are those related to the elections petition filed by the A Partnership for National Unity + Alliance For Change (APNU+AFC) coalition.
At the commencement of the case management conference (CMC) last Thursday, Chief Justice (ag) Roxane George raised several issues into the APNU+AFC's Elections Petition which seeks to challenge the validity of the March polls.
On August 31, the Coalition, through its lawyer, Roysdale Forde, filed the documents on behalf of Claudette Thorne while on September 17, Attorney Mayo Robertson filed documents on behalf of Heston Bostwick, who both want the High Court to determine the legality of the elections, and the results that led to the declaration and allocation of seats in the National Assembly.
According to Guyana's laws, the validity of votes can be challenged only through an election petition after the overall election result has been declared, and a Government is in place. At this point, an investigation will be done, and the case tried in court, based on the evidence presented.