– time to lead, President Ali tells newly sworn-in regional chairs, vice-chairs
By Navendra Seoraj
WITH the exception of Region Eight, chairpersons and vice-chairpersons of the respective Regional Democratic Councils (RDCs) were sworn in by President Irfaan Ali, and while those persons have different political preferences, the President emphasised the need for them to work in the best interest of every Guyanese.
The President referred to the RDCs as the 'second tier' of government, noting that they function as an important bridge between central and local government, serving the interest of all people.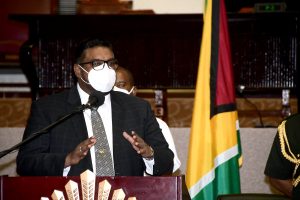 He emphasised the need for there to be focus on every Guyanese because of the difference in political leadership, with six of the 10 regions being controlled by the People's Progressive Party/Civic (PPP/C) and the remainder, the A Partnership for National Unity and Alliance For Change (APNU/AFC) coalition.
The Guyana Elections Commission (GECOM) had declared that the PPP/C won the March 2, General and Regional Elections after amassing 233,336 votes. They unseated the coalition, which received 217,920 votes.
"Elections are over, you are now elected to lead… the task is to serve for all the people… this is the core message I wish to leave with you, service to all the people and other regions," said President Ali during his remarks following the swearing-in ceremony at the Arthur Chung Conference Centre, on Monday.
The President affirmed Central Government's support for the local organs, noting that his administration stands ready to provide necessary support and to enable those leaders to facilitate development and upward movement of people in every region.
"This is a journey of leadership, one that all of us have been entrusted with by the people… it is not an easy task, but it must be a selfless task, a task that you take seriously… our oath of office and your oath is one which you would have committed to serving the people without favour or fear, which means that although we represent different parties, by assuming these roles, your conduct and actions have to be for all the people," said President Ali.
The need to represent every Guyanese is especially important now, as Guyana continues to experience the direct and indirect effects of the dreaded novel coronavirus (COVID-19) pandemic.
"You are assuming office under trying conditions, not only locally, but globally, as the world is dealing with COVID-19… it requires leadership, as it (the conditions) does not end with a vaccine for us. Our work has been cut out by this pandemic, at least for the next two years," said President Ali, noting that regional leaders must work towards returning communities to sustainability.
The necessary measures, implemented to slow the spread of the disease, have effected a reduction in economic activities across all regions. The economic and social impacts have been tremendous in some regions more than others, and the President has confirmed receipt of letters from regional leaders, outlining the extent of those impacts.
On a national level, government has reprogrammed US$60 million for relief efforts and measures to create some level of normalcy.
INTEGRAL ROLE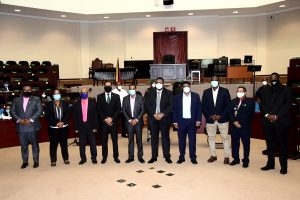 Regional leaders have an integral role to play in ensuring that those measures and efforts are implemented properly and in a way that benefits every Guyanese.
Among the persons, who were sworn in by President Ali, are, for Region One, Chairman, Brentnol Ashley and Vice-Chairperson, Anasha Peters; Region Two, Chairperson, Vilma Audrey De Silva and Vice- Chairman, Humace Odit; Region Three, Chairman, Ishan Ayube and Vice-Chairman, Omesh Satyanand; Region Four, Chairman, Daniel Seeram and Vice-Chairman, Samuel Sandy; and Region Five, Chairman, Vickchand Ramphal and Vice-Chairman, Rion Lancedale Peters.
Also, for Region Six the Chairman is Permaul Armogan and Vice-Chairman, Zamal Hussain; Region Seven, Chairman, Kenneth Williams and Vice-Chairperson, Kamal Persaud; Region Nine, Chairman, Bryan Allicock and Vice-Chairman, Bertie Xavier; and Region Ten, Chairman, Deron Adams and Vice-Chariman, Douglas Gittens.
Minister of Local Government and Regional Development, Nigel Dharamlall, said Region Eight has no council because many of the councillors had tested positive for COVID-19. Those persons have since been cleared of this disease, and will soon elect their chairpersons.
Some of the regional leaders have already outlined plans for their various constituencies. And, it was reported recently that improved health, education, economic development and youth development are among key areas of focus for some of those leaders.
"The people know me and I know the people. We have a beautiful team with a lot of youngsters and I am happy that we have a lot of young brains coming in, because these are the ones that are going to take over from us older ones someday. I love to have the youths on board; they have a lot of energy," said Allicock in a recent report.
Over in Region Seven, Williams said: "We would have seen tremendous growth over the last couple of years at the town council, so based on that experience I would have gotten the passion to serve even higher. I would have recognised that more was needed for the region is not just Bartica."
Meanwhile, with 35 seats, Seeram will be heading the largest council of the 10 regions, and when it comes to this region, health, social cohesion, economic stability and education are the areas he will be targeting as he leads the region for the next five years.
"In health, what I want to do is focus on the relief of the general public in all sectors. A lot of people were put out of business in this pandemic, even with the $25,000, we at the RDC will need to see what we can do to further boost and buffer the man on the ground and assist them within their situation," Seeram said.
He added: "One of the major issues that I want to deal with is curbing the COVID-19 pandemic; we also want to foster social cohesion and to establish economic stability in the region; in education, for the region, we want to ensure that we get education to everyone that needs it."
It is the function of the RDCs to administer services such as health, education, and public works in the region; coordinate activities with the local democratic councils; and identify economic projects, while assisting Central Government in executing work necessary for the development of the respective regions.