By Jared Liddell
CANDLE-MAKING can be a simple and relaxing activity, and many persons take up this form of creativity as a hobby; this was the same for the creator of Wax Wonders, Saleena Hack.
The young entrepreneur recently started her candle business, which creates hand-made, scented, soy wax candles.
She told the Pepperpot magazine that her journey with candle-making started about a year ago as a form of relaxation, adding that creating the candles and the scents allowed her the opportunity to also express her feelings.
She stated that the various scents, mixes and colours represented what she was feeling when creating them. Hack said that initially there wasn't a plan to have a candle business, she would only make candles for herself and family members and would always get comments from persons asking where she got her candles.
Soon she decided to take her recreational activity to the next level. A lack of time hindered her from progressing on a large scale, but time and a renewed desire to live her passion were realised during the COVID-19 pandemic.
"After covid [started] I had a lot more time, so I started working on more recipes and making sure I got all my packaging, my containers, and my labels."
The key was to deliver a quality product. Hack said that although it was easy to get her business up and running there were challenges that she faced in its initial stages.
"After the COVID pandemic shut down everything we just had to think about other ways to get the candles to people. We would hop in the car and go take the candles to people's homes, their workplaces and so on. And we had so much support my first batch was sold out in a shorter time than I expected."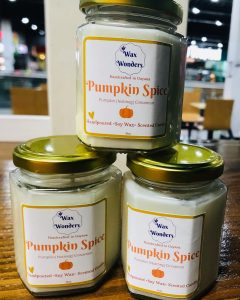 Hack further stated that in figuring out what types of candles she wanted to produce, she landed on Soy way candles due to its eco-Friendly nature. Wax Wonders presently produces six scents including, blueberry cheesecake, caramel latte and apple spice.
Another scent, pumpkin spice, was created for the season of fall with Halloween in mind.
Additionally, Hack would look to merge her talent in poetry and candle-making.
"It's going to be personalised poems, so if maybe it's your significant other's birthday or an anniversary, I would have a specialised poem…And it's not just about romantic connections. There would be poems that would just uplift you and make you feel calm or rested; and there will be a scent related to specifically that feeling."
The Wax Wonder aromatic candles can be purchased at KAOS at the Giftland Mall, as well as through the business's Instagram page @waxwonders_gy.