By Michel Outridge
HEERAWATTIE Mangaldeen has the Number 74 Village, in Lower Corentyne, Berbice, in her heart, given that her main objectives are to protect it and promote it.
The 52-year-old disclosed that she is originally from Skeldon, but relocated to the village after marriage and became interested in its development.
Mangaldeen, better known as 'Radha,' is the founding member of the village's Community Policing Group (CPG). Established in 2013, the group now has 15 active members.
The group would patrol the area mostly on foot; due to COVID-19 restrictions, this is done up to 20:30hrs.
"We mostly settle domestic issues at the community level and we really don't have serious social ills in this village which requires police intervention, so household disputes and drunken brawls are resolved amiably."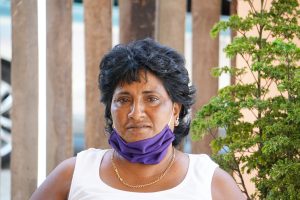 She noted that mostly people who were born and raised in the village reside there, so there are no strangers; as such, the people co-exist in relative peace and quiet and go about their usual business in a civilised way.
"The only little issue we have is the young boys would drink up and would get up to some mischief, and we call them 'kitchen thieves' but they mean no real harm."
The Number 74 Village resident said that there are a lot of developmental plans on the cards with the CPG, but they need a little help to get them off the ground. Among the plans is the installation of internal streetlights.
She disclosed that the CPG constructed a bus shed in 2014 as part of their community project.
Mangaldeen pointed out that the CPG has a feeding programme, but on behalf of herself she would sponsor a feeding project annually for the needy as her way of giving back to society.
"The CPG would sponsor a night wake if there is a death within the village and that has been ongoing for many years, so they have close relations with the people."
Along with her policing work, she had also started a small tour guide business prior to the pandemic.
"My children are grown, so I finally have the leisure to do whatever I want and I choose to earn as a woman to supplement my husband's income; as such, the recreational tour business was established."
Radha Recreational Tours which is both overland and waterbased, started some years ago as a small business, but as a result of COVID-19 all tours are on hold until it is safe to resume operations.
The mother of two told the Pepperpot Magazine that she provided a safe tour via a 30-seater fully air-conditioned bus to Brazil, Suriname, Orealla and Essequibo.
She would serve as the tour guide on the trip and would even have river tours to places located within the Corentyne River.
Mangaldeen's husband is a large-scale cash-crop farmer, whose farm lands are located deep within the backlands of the village. He has an employee who assists him on the farm daily. He would sell his produce to wholesalers or at the nearby markets along the Corentyne.