By Marissa Victoria Foster
SEETA Dalloo hails from the closely knit community of Blairmont in West Berbice. She is a devoted Hindu and for as long as she can remember, she has been attending Mandir.
This helped her to develop the love she now has for her culture. It was here where she managed to join and be a part of multiple organisations and take part in numerous cultural activities. Seeta specialised in traditional dance, music, drama and even martial arts. She also performed on stage for various cultural and religious events. Her background is deeply rooted in cultural engagements, but it was only recently she learned of the art of yoga.
She developed a keen interest in the practice and gravitated towards it.
"The benefits I experienced from yoga were not just physical, but also mental. I realised that whilst consistently practising yoga, I found a new avenue for relaxation and gaining control over my mental state, especially in stressful situations."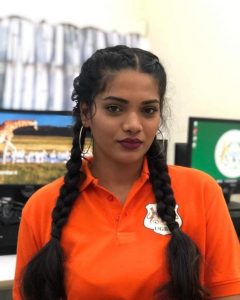 Seeta said that yoga helped her physically by maintaining a good and healthy physique, while it also made her more aware of any bad or unhealthy habits.
"I became more mindful of my diet and as such, I was able to feel more confident about my physical appearance and overall well-being."
Growing up, she has always been passionate about the mental and social development of children. This is evident in her areas of study, as Seeta is currently pursuing her Bachelor's Degree in Social Work at the University of Guyana.
"Since I've known of the importance of a sound and well-rounded upbringing, I've been passionate about providing the same opportunities to children. I came to the realisation that many opportunities are not readily available where I am from. With this in mind, I recognised that the platform that I have as a member of the Blairmont Hindu Youth Organisation, it is ideal for implementing and introducing classes where I can engage with children and teach them the different cultural activities I would have had the opportunity of learning at a young age."
These activities, inclusive of yoga, will aid the children in character-building by helping them to develop self-esteem, foster self-confidence, and communication skills. This will definitely benefit them throughout their lifetimes. Weekly classes were held where the children were engaged in different extra-curricular activities such as music, dance, yoga, etc. Due to the pandemic, classes were discontinued. However, Seeta and the Mandir recently created a youth group on Facebook to keep the children engaged. She strongly believes that yoga can be used by children to better their life experiences and mindsets.
She wants others to recognise the importance of maintaining a healthy (mentally and physically) and spiritual lifestyle throughout this pandemic.
This yoga devotee urges all to grab a mat and some comfortable clothing, stick to a schedule that suits and practise some simple yoga and meditation methods. For beginners to yoga, she suggests that they practise some simple asanas (poses); Trikonasana (triangle pose), Vyaghrasana (tiger pose), Balasana (child's pose), Padmasana (lotus pose), Ustrasana (camel pose) and the Bhujangasana (cobra pose).
According to Seeta, Surya Namaskar, also known as Sun Salutation is a very common yoga practice. It is a routine that she practises every day and she finds that it can be very helpful in many areas. It comprises 12 postures which engage different parts of our bodies; aids in reducing bodily tension, breath regulation, and stimulating our central nervous system. Research shows that Surya Namaskar also has positive impacts on our psychological and emotional states.
Despite being a full-time student and employee, Seeta still finds time to practise yoga every day. She believes the best time to practise is during the sunrise, as it is a great way to start your day. Yoga has helped her and the children in the community of Blairmont to remain focused, calm and healthy during this global pandemic with social restrictions—she hopes it can do the same for you too.