— mayor happy about First Lady's beautification project
BARTICA Mayor, Gifford Marshall, has commended the move by First Lady Arya Ali to implement a 'National Beautification Project', and said the township is working to emulate the fine example being set in beautifying its own environs.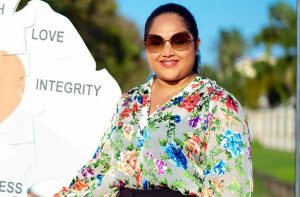 "I must say how elated I was when I read an article emanating from the First Lady's Office, articulating the vision for a National Beautification Project. I commend this transformative initiative," Marshall told the Guyana Chronicle recently.
Ever since Bartica became a town, the local authorities have used every platform possible to emphasise the need for a 'green' approach to the environment, resulting in a remarkable transformation to Bartica's landscape.
"There needs to be a new thought process, a… shift towards cleaner, eco-friendly communities across Guyana," Marshall posited.
Amidst, encumbrances on parapets and reserves, irresponsible disposal of garbage, stray animals, increased vehicular air pollution and push back from some residents, he said the municipality of Bartica is forging ahead monthly with initiatives that will aid in the beautification of the town.
"We are grateful for the growing support amongst stakeholders in support of our efforts. Our vision, have seen avenues, reserves and open spaces being enhanced with trees and flowering plants," Marshall observed.
The Monument of Hope will soon benefit from three species of palms namely; Fish Tail, Fox Tail and Christmas Palm, while dozens of flowering trees have already been planted along 7th Avenue, in front of the cemetery.
Caribbese Hill is also experiencing a much-needed enhanced environment. A number of trees have been planted and benches were installed. Work has also started at the junction of 7th Avenue and the Potaro Road.

"On completion, the transformation will be admired and to the benefit of all. The vision of a national beautification project shared by our First Lady must be embraced by all. Improving the aesthetics of one's community positively impacts property value, reduces crime and promotes tourism," Marshall stated.
Meanwhile, the First Lady had highlighted that her National Beautification Project will rely on scenic conservation to safeguard the picturesque qualities of Guyana's roadways, urban spaces, and countryside; while simultaneously creating a more environmentally-friendly society.
She has explained that plans are underway at her office to identify spaces for eco-friendly parks in each administrative region and to embark on an ongoing national tree planting exercise.
Just last month, she honoured commitments made to local group, 'Seawalls and Beyond', to participate in one of its clean-up exercises and to provide the group with much needed supplies to continue its work.
While there, she commented that one of the pillars of the National Beautification Project focuses on regulation and monitoring of any form of unlawful intrusion on the landscape or community appearance of public spaces.
While the removal of waste at this time is being done by volunteers, the First Lady noted that maintenance will be important and so she has committed to engaging the relevant authorities to ensure that the area is properly maintained.
She has also indicated that part of her restoration plans for the seawall will be the planting of trees along the coastline, and the reintroduction of the creative arts at the famous bandstand.