WE are days away from the launch of the much-anticipated 'Men Across Borders' launch on September 30. We hosted another empowering virtual discussion with some of the other co-authors from the Men Across Borders Anthology a few nights ago. I am so proud of all the co-authors and I am expressing my gratitude again. A big thank you to Pastor Joseph Persaud, who contributed the foreword for this anthology.
Pastor Joseph Persaud lives in New York and pastors a thriving church (Liberty Church NYC) with a global reach across continents with viewership of different peoples and nationalities. He has been married for 30 years to his wife Rachel Persaud and together they have three boys. One is a young leader/businessman, the other an aspiring physicist and the other is still in school. Pastor Joe fulfilled his theological training early in his ministry and possesses a Bachelor's in Law and two Masters Degrees: one in International Affairs and the other in Sustainability Management/ Renewable Energy. One of his masters' degrees is from one of the top Ivy League schools in the USA. He also runs an insurance company in New York and a global foundation with Liberty Church; it has a presence in various nations globally. He is well travelled and has been to over 25 nations and has spoken at various conferences and speaks weekly to hundreds in person and thousands online. His messages are filled with hope and inspiration; to use the setbacks as stepping stones to a better tomorrow.
One of the difficult chapters I have written is the first chapter in this anthology featuring my foster dad who died a few months ago.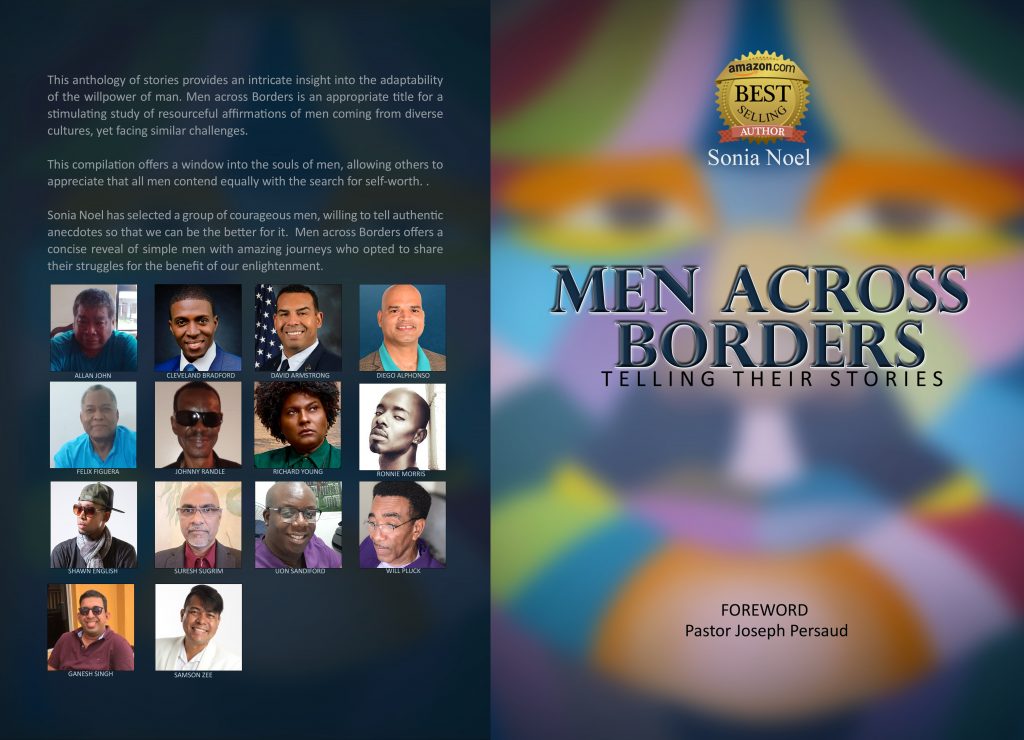 Allan John was born on February 3, 1953 in Kurupukari, Guyana. He was the third child of seven others. Allan attended the St.John the Baptist Primary School in Bartica. His expertise is reflected in the rivers of Guyana he has traversed. It is known that this requires apt command, versatility and a sturdy hand, but these were only a small percentage of his qualities. There is unspoken beauty to the might possessed by Allan John, but almost in equal part is the ability to move with such humility that the loudest thing about his living is the legacy he now leaves us after his passing in April 2020. What a dash he left on his tomb that reflected in his life on earth.
Cleveland Bradford is one of the best photographers I know. He created so many stunning images for me and many others over the years. He grew up in a middle-class family with meaningful values, which encouraged him to do the best he can. In his household both parents were his support, in his lowest low and highest high.  In those times art was considered only a hobby, and not a profession. For this reason, he endeavoured to source employment in areas such as accounting, banking and other seemingly gainful occupations, as these were considered the prestigious jobs. After years he took a leap of faith and started his own photography business (Eclipse Photo Studio) and the rest is history.
Ronnie Morris is an energetic humanitarian; he has donated his time, talent and production skills to numerous major charities in Barbados and beyond. These include the Haiti, Barbados Loves You event, with which he served as co-producer, which raised millions for Haiti following that country's devastating earthquake. He also conceptualised "The Fight Is Not Over" campaign for Barbados' fight against HIV & AIDS, writing the theme song and executing a massive event for World AIDS Day. He has also partnered with the Barbados Vagrants and Homeless Society to donate thousands of canned food items for the homeless and the list goes on and on.
Ganesh Singh, a disability rights advocate and leader. As a direct result of his invaluable work in the Guyanese disability community, he has evolved into a disability consultant, and an expert on multiple subjects relating to disability in Guyana and as such, received many prestigious awards. A few of the awards Mr. Singh has received are: the "Commonwealth Point of Light Award" from the Queen of England (2018); National Sports Commission (NSC) Sportsman with Disability of the year (2017); National Youth Award (2017); Caribbean Voices Community Leader for Social Change (2017); Social Worker of the Year (2016). Mr. Singh also recently acquired his Masters of Social Work (MSW) Degree with honours from the University Of Guyana (UG) and his Post-Graduate Diploma in Education from UG, also with honours. Currently, Mr. Singh serves in a number of organisations holding various portfolios both in Guyana and regionally. Mr. Singh is also the producer and presenter of two (2) radio programmes; "Disability and You" and RGI's Disability In Focus." Disability and you is, a weekly show, has been on air since March 2014 and RGI's Disability In Focus, a daily show, has been on air since January 2015. Both shows are still being broadcasted. Mr. Singh is actively involved in sports.
One of the things I admire about these men is how well they serve. We all need to aspire to do that every day and give the world a better version of ourselves.
If you are desirous of receiving a special invite to the virtual launch, send us an email to anthologymenandwomen@gmail.com. I have one other invite for you for the 28th for the official launch for my programmes on Mastermind.com and Teachable. Email livingwithintention11@gmail.com or WhatsApp 5163099233. Reminding you that you are your best investment as we continue to celebrate this beautiful journey called Life BEYOND THE RUNWAY.