– But therapy working wonders!
By Telesha Ramnarine
IT'S as if the life of the beautiful and energetic Holly-Anne Maksyhung changed overnight. She didn't see coming what had the ability to completely upend her life, but all she knew was that she was now entirely dependent on others to help her with even the simplest of tasks.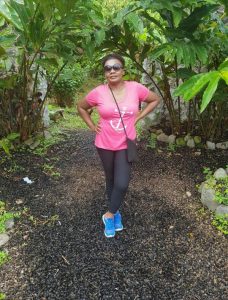 Holly-Anne, 40, has been officially diagnosed with Chronic Inflammatory Demyelinating Polyneuropathy (CIDP), a rare neurological disorder that goes after the nerves of the body, and severely inhibits movement.
For Holly-Anne, her symptoms started with simple things, such as stumbling while walking, which she never took to mean anything; having difficulty climbing stairs and having swollen feet after being on them for just a short time.
So it came as an utter shock to her when she realised that it all formed part of the dreadful disease that would now become her new reality. Just after a short time of becoming very ill, she became wheelchair-bound.
"For the first two weeks, it was pretty scary; it was depressing and confusing. I had all of my other responsibilities…it was total confusion, depression, panic," she expressed during an interview with the Pepperpot Magazine. "I was very surprised because there is no precursor to this type of illness. In my case, it affected my lower body, so I am telling my foot to move, but the message is not being transmitted to my brain."
Holly-Anne, born and raised in Linden, became ill in the latter part of last year and her true condition was detected in February.
Pretty Active
"I was pretty active. I worked in hotel management for the last seven years. So I was someone who was always on the go. If I am not at work, I am hiking, I am on the beach; I like to travel, take my daughter on vacation to different islands. I had a pretty active work and social life," Holly-Anne explained.
So when she became ill, it was quite a drastic change for her. "I went from being like that to being unemployed, immobile and having to depend on persons for the simplest things. It was a shock to me because I didn't know what was happening to me. All I knew was that my body was falling apart."
To make matters worse, Holly-Anne knew no one else with the disease, and there was not a single support group, specific to the needs of persons with CIDP in the country that she could have turned to. In fact, to this day she believes that she is the only person with the disease locally.
"You understood the illness based on what you read, but the support locally… there wasn't anyone I could have turned to….to understand if I would ever get out of bed again," she recalled.
But her family and friends turned out to be strong support and rallied around her to help. She then began reaching out to the online community, and persons with the illness came forward and shared their stories with her.
Walking Again
"There is a 98 per cent recovery rate in general, but it is possible for persons to remain with severe disabilities in some cases," Holly-Anne pointed out.
She has, however, been showing significant improvement with her illness and was able to begin using a wheelchair after being bedridden. Furthermore, with therapy and treatment, she has been able to take steps with the help of a walker. "I am slowing redeeming movements in my leg, so I sometimes use a walker to get around, to keep the muscles active and prevent them from dying."
Based on her progress, her prognosis is somewhat on the brighter side. It all depends on the amount of damage that was done on her body and how fast her body heals. But she is confident that she will be able to walk independently in the future. "I have adopted the mindset that if I work towards it, I will achieve it; that this is just another chapter in my life."
Holly-Anne has been receiving therapy from the qualified and well-trained personnel of the Rehabilitation Department of the Ministry of Health, in the Palms compound on Brickdam.
She said the physiotherapist assigned to her, Vanessa Wickham, is quite an asset to the team, led by Director Barbara Lawrence. "In the couple of weeks I've worked with her, she has really built my confidence and pushed me to want to recover. She takes her time to explain what she's doing and why as we do our workout."
As for Wickham, Holly-Anne is the first CIDP patient that she has ever dealt with. In fact, she said Holly-Anne is the first case known to the department, and the only one thus far.
She explained that when Holly-Anne first went for therapy, she was very limited in what she could do. Now, though, with the help of a transfer board, Holly-Anne can get out of her wheelchair and onto the bed. She can also bend her knees, and do certain exercises on her own.
Wickham said while Holly-Anne would have to go through some rigorous sessions of therapy, they are already seeing improvement. With continued progress, she said Holly-Anne may be able to move from using a walker to using a cane.
Positive Outlook
Holly-Anne said she prefers not to dwell on the negatives in her life, and instead keep a positive outlook on life. "You just have to live life and face every obstacle that comes in your way. Be quick to smile, and every time a negative thought comes into your mind, replace it with something positive."
Being ill in this way has also taught her to accept help. "This was one of my shortcomings because I was someone who was pretty much 'Miss Independent,' doing everything for myself. But I've learnt that there are times when you need to let other persons take care of you."
Holly-Anne wants to eventually be able to start a support group to bring awareness to people like herself. She is ever grateful for the genuine love that her family continues to show her.