REGION Two has recorded another positive case, according to Dr. Shineer Reid. This disclosure was made by Dr. Reid at the Regional Health Emergency Committee on Friday at the Regional State House.
During the meeting, she said a two-year-old from the Karawab Amerindian community is the recent and youngest COVID-19 victim within the region and as such a medical team will be dispatched to the community to conduct screening with close relatives. She also disclosed that the region has five positive cases.
Commenting on the convenience at the Suddie Public Hospital, Dr. Reid said that there is a temporary holding institution used for quarantining; some patients are currently in isolation. Surprisingly, Dr. Reid said that the two-year-old child who was diagnosed with the virus was earlier admitted to the Oscar Joseph Hospital at Charity, but did not display any flu-like symptoms. All staff and patients who had immediate contact with the child will now be subjected to screening by the health team.
Outlining some of the challenges the health team faces, Dr. Reid said one is the lack of medical gear. She also mentioned that most times health officials are forced to re-use gear that are not reusable. She also used the opportunity to call on the newly elected government to provide more resources to help combat the pandemic.
In commenting on the issue, Region Two Chairman Devanand Ramdatt thanked members of the health committee for the work done over the past months. He however feels that the committee members need to review the present measures and more measures need to be implemented to tackle the pandemic. He also said he is dissatisfied with irrelevant staff being part of the committee; some of those he believed were not necessary.
"I have seen that field officers, stores clerk on such committee. I am not debating their competence but I just don't see them contributing medically. I strongly believe that the border needs more monitoring and screening should take place," Mr. Ramdatt said.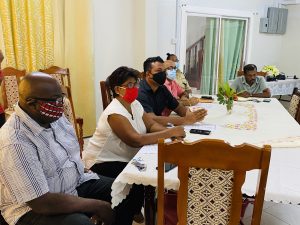 He also told the committee that President Dr. Irfaan Ali has secured thousands of testing kits for the continuation of COVID testing.
Chairman of the Regional Health Emergency Committee, Regional Executive Officer Denis Jaikarran said that the committee usually meets on a regular basis. He said to his understanding the first three cases had addresses in Region Two, but were not living there.
Some of the measures taken by the committee over the past months include continuous screening at ports of entry, sensitisation, and fumigation of schools. Samples taken from suspected cases are usually sent to the Georgetown Public Hospital Corporation (GPHC) for confirmation and testing.