JUST one day after two separate accidents left one dead and two injured, a 45-year-old carpenter was struck down on Sunday afternoon, while on a pedestrian crossing, on the Mon Repos Public Road.
Dead is Vickram Budhram of 24 First Street Mon Repos, East Coast Demerara, who was struck by a grey Toyota Premio, bearing registration PPP 5422, that is said to have been speeding at the time.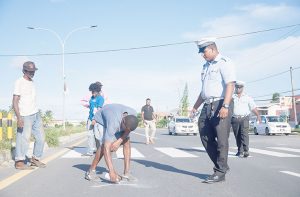 According to eyewitnesses, the accident occurred around 14:00hrs, when the father of three had just completed crossing the northern carriageway and was at the median waiting to cross the southern carriageway, of the four lane roadway.
The car that struck him was proceeding west on the southern carriageway.
The impact was said to have thrown Budhram, into the air, while the car is said to have further dragged the body after it landed on the roadway, leaving Budhram's body over 25 feet away from the area of initial impact.
The vehicle has since been lodged at the Beterverwagting Police Station and the driver was taken into custody. During a visit to the scene this publication was informed that the driver alleged that Budhram was not on the pedestrian crossing at the time. However, an eyewitness disputed that and marked a spot where he saw Budhram standing.
Also at the scene was Budhram's brother, Nehro Budhram who said he had spoken to his brother earlier that afternoon, before he received a call that his brother was in an accident.
When he got there, he said, from the mangled state of his brother's body, he could tell that his brother was already dead. At Budhram's home, family members gathered to console his grieving children.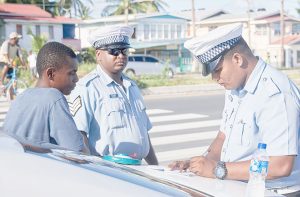 Budhram's daughter. Kareena, said she last spoke with and saw her father at 06:00hrs when he left for work. The 14-year-old said she was at home with her grandmother when someone came and conveyed the sad news that her father had been struck down on the roadway.
Sunday's accident followed two separate accidents on Saturday which left one person dead and two others injured, both accidents resulted from speeding.