…suspect in custody
THE Customs Anti-Narcotics Unit (CANU), on Saturday July 25, 2020,interdicted a Guyanese man who was alleged to have been preparing to transport a quantity of suspected smuggled beer in Lethem near to Guyana's border with Brazil.
CANU, in a press release, gave the suspect's name as Ryan Khan, a resident of Lethem.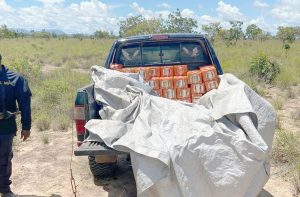 The release said that during a routine operation in Region 9, CANU ranks arrested the Lethem resident found attempting to transport suspected smuggled cases of beer believed to have emanated from Brazil.
"The interdiction was made whilst the suspect was attempting to load the suspected articles onto the tray of his vehicle from its purportedly concealed location under a clump of bushes at an area near the Guyana/Brazil border," CANU said in the release. The anti-narcotic agency gave the quantity of the suspected smuggled items as 251 cases of beer.
The seized articles and the suspect have been handed over to GRA for investigation, the release said, adding, "CANU will continue to conduct surveillance operations and provide support for its fellow inter-agencies to minimise and eradicate illicit narcotic and related activities nationwide.